Message from the President and CEO
For 45 years, Fighting Blindness Canada has led the fight against blindness by raising funds and directing research aimed at preventing vision loss and restoring sight to people living with blinding eye diseases.
Today, we're at a unique moment in history, where the research we're funding has begun to translate into clinical care that is preventing vision loss. With the support of our community, we are moving closer to treatments and cures for blinding eye diseases.
It gives me great pleasure to welcome you to our website, where you can find information about the blinding eye diseases that over 5.5 million people across Canada are at risk of developing. Here, learn about the cutting-edge research we're funding into the causes, treatments and cures for vision loss. For people living with vision loss, our Vision Care Pathways are a comprehensive, centralized resource offering guidance and information specific to different eye diseases. Our Patient Registry for inherited retinal diseases connects people living with retinal eye diseases to emerging clinical trials and research. And of course, we welcome people to join our national fundraisers, supported by an incredible community of donors and volunteers determined to help make blindness a thing of the past.
Thank you for visiting Fighting Blindness Canada. Together, we can restore hope and sight.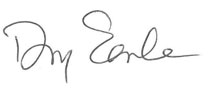 Doug Earle
President & CEO
Fighting Blindness Canada
Join the Fight!
Learn how your support is helping to bring a future without blindness into focus! Be the first to learn about the latest breakthroughs in vision research and events in your community by subscribing to our e-newsletter that lands in inboxes the beginning of each month.