Door-to-door- Fundraising
FBC IN YOUR NEIGHBOURHOOD
On February 21, 2022, Fighting Blindness Canada (FBC) started door-to-door canvassing in neighbourhoods across Canada. Our fundraisers go house-to-house to inspire people to join us in the fight for sight and help fund ground-breaking vision research by becoming a monthly donor.
FBC is helping drive research forward that supports our goal of understanding why vision loss occurs, how it can be slowed and how sight can be restored for people living with vision loss.
Monthly Giving is a great way to make a bigger impact everywhere, now and in the future.
OUR PARTNER, GLOBALFACES DIRECT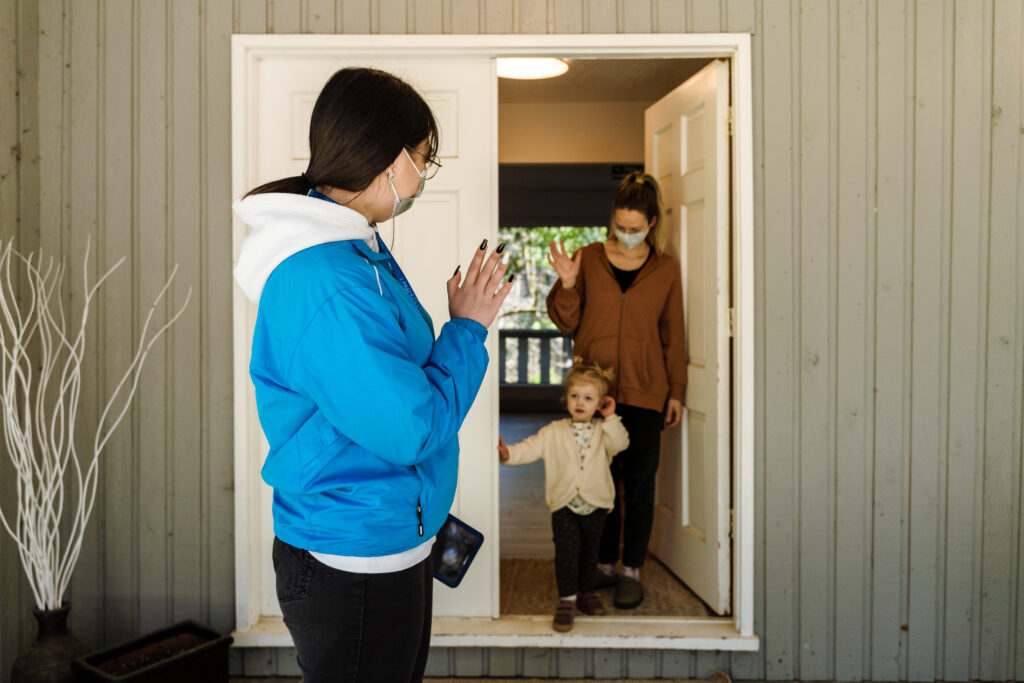 Door-to-Door canvassing provides a means of helping to grow our community of monthly donors. Fighting Blindness Canada has partnered with Globalfaces Direct, one of Canada's largest and well-respected face-to-face fundraising companies. The fundraisers receive comprehensive training which allows them to speak on behalf of Fighting Blindness Canada about our work and fundraising programs. Once you sign up as a new monthly donor, a representative from Globalfaces Direct's verification centre will speak to you by phone to review the details you provided to our door-to-door fundraiser.
You will receive a verification call from one of the following numbers: 1.833.923.3907, 613.518.0197 or 780.652.0335.
HOW DO I IDENTIFY AN FBC CANVASSER?
Each of our canvassers will have the following identifiable collateral:
An identification badge which states the canvassers name as well as their identification number. This badge should be attached to an FBC branded lanyard. NOTE: If the fundraiser is in training, their badge may state "Trainee" in place of their name
An FBC branded vest
An FBC canvasser will NEVER ask for or accept cash donations
An FBC canvasser will process information through a handheld device or iPad and the transaction information will be communicated via telephone to maintain security of credit card information
You will receive a welcome call 24-48 hours following your signup to verify your information and intent to donate
COVID-19 SAFE PRACTICES
Will keep a safe distance
Will wear locally suggested personal protection equipment
Will use contactless verification – telephone calls
Will have access to other sanitizing material and will use regularly
All Canvassers will have regular health screening before working every day
Join the Fight!
Learn how your support is helping to bring a future without blindness into focus! Be the first to learn about the latest breakthroughs in vision research and events in your community by subscribing to our e-newsletter that lands in inboxes the beginning of each month.