Dec 9, 2019
FBC-Funded Researcher Bringing New Clinical Trial to Canada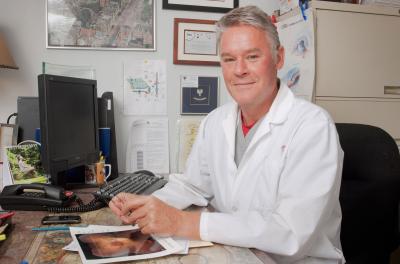 This month, we're pleased to announce that Dr. Robert Koenekoop—a long-time FBC-funded researcher—will be bringing a natural history clinical trial to Canada focused on developing an effective treatment for Usher syndrome caused by mutations in the USH1C gene.
This is part of a collaboration between Dr. Koenekoop, Professor of Paediatric Surgery, Human Genetics, and Ophthalmology at McGill University, and Dr. Jennifer Lentz, Associate Professor at LSU Health New Orleans Neuroscience Centre of Excellence. They received a five-year, $2.31 million grant from the National Eye Institute, a $53,000 donation from the Ush One See Foundation, and a $453,920 grant from Fighting Blindness Canada (all numbers in Canadian dollars). FBC's contribution will specifically support Dr. Koenekoop's research.
Dr. Koenekoop will be running a two-year, prospective natural history study to better understand vision loss associated with USH1C mutations, and to identify prospective patients for future treatment studies. Dr. Koenekoop and Dr. Lentz are working together because USH1C has a critical mass impacted in the Quebec Acadian and Louisiana Cajun populations.
This investment in Dr. Koenekoop's work reflects FBC's commitment to bringing clinical trials to Canada. Currently, we are tracking 59 clinical trials for inherited retinal diseases, and many more clinical trials for glaucoma and age-related macular degeneration.
"The success of clinical trials relies on the participation of patient volunteers, and we commend people living with the USH1C gene stepping up to help others around the world by advancing scientific discovery," says Doug Earle, President & CEO of Fighting Blindness Canada. "Drs. Koenekoop and Lentz are trailblazers offering hope to thousands of families that restoring sight is possible. Fighting Blindness Canada's donors are proud to support this groundbreaking work."
Learn more about Dr. Koenekoop's work here.
Join the Fight!
Learn how your support is helping to bring a future without blindness into focus! Be the first to learn about the latest breakthroughs in vision research and events in your community by subscribing to our e-newsletter that lands in inboxes the beginning of each month.