NEWLY DIAGNOSED WITH AN EYE DISEASE
Being diagnosed with an eye disease can be confusing and scary. You may have a lot of questions or, you may not know what questions to ask. This page shares helpful information whether you or a loved one have been newly diagnosed or have been living with an eye disease. Information including:
The roles of different eye care professionals.
Questions to ask your doctor.
Supports that are available for you.
Some of the most common concerns after being diagnosed with an eye disease are:
Will I go blind?
Is there a treatment for me?
Will I become isolated or immobile?
Will I lose my job?
How will this affect my relationships?
THE 3 O'S: OPHTHALMOLOGIST, OPTOMETRIST, OPTICIAN
There are several eye healthcare professionals who provide eye care, treatment and vision aid support.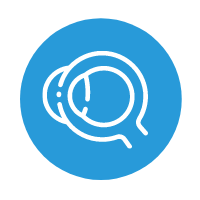 Ophthalmologist
An ophthalmologist is a medical doctor or physician who diagnoses and treats eye disorders. Ophthalmologists perform surgery and prescribe and deliver medications and treatments. They also perform routine eye exams and more complex tests like electroretinograms.
When should you see an ophthalmologist? If you have shown symptoms of a complex eye condition like macular degeneration or retinitis pigmentosa, you will often be referred to an ophthalmologist. The ophthalmologist will confirm your diagnosis and discuss treatments if there are any available.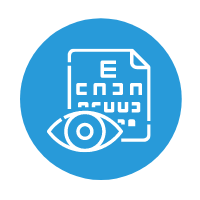 Optometrist
Optometrists have a Doctor of Optometry degree. They are often your primary eye care provider and may be the first eye health professional you visit. Optometrists provide routine eye care and diagnosis, and can prescribe medication for certain eye conditions and diseases.
When should you see an optometrist? You should schedule regular eye exams with your optometrist. Your optometrist will:
Check your visual acuity to determine if you need glasses.
Check your current glasses prescription to make sure it is still accurate.
Check your eye pressure to rule out glaucoma.
Examine your retina and macula.
Ask if you have experienced any new symptoms with your vision.
Low-vision optometrists specialize in providing support for people who have been diagnosed with 'low-vision' (traditionally between 20/50-20/100 visual acuity). These doctors are skilled in assessing your level of vision and vision needs and help teach you how to use low vision aids and technology.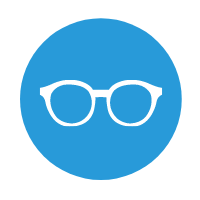 Optician
Opticians are licensed professionals who provide support in buying and fitting corrective lenses (glasses and contact lenses), low vision aids, and at times provide some other forms of eye care. Opticians will use the prescription provided by your eye doctor to make your glasses.
When should I see an optician? If you have a prescription for a vision aid like glasses, bring your prescription to an eye glass store. The optician at the store will help find the right corrective lenses. When picking up your glasses, the optician will make sure they are the right fit.
PREPARING FOR YOUR EYE APPOINTMENT
Write down any questions you want to ask your eye doctor.
Bring a friend or family member to your appointment. This person can help record answers to your questions. You might not be able to see well after the appointment if the doctor dilates your eyes or gives you a treatment. It can be helpful to have a guide or driver. If you cannot bring someone, the staff at the clinic can help guide you.
If you are feeling stressed or anxious about your appointment, try some relaxation techniques like meditation or box-breathing. You can also use these techniques during your appointment to help ease any anxieties.
How often you get your eyes checked can vary based on your age, eye health, and any medical conditions. If you are not sure how often you should get your eyes examined, check with your eye doctor.
QUESTIONS TO ASK YOUR DOCTOR
Here are some questions that you may want to ask your eye doctor. Not all the questions will be relevant to you, but they will give you an idea about the type of information you may want to know.
What tests/procedures will I be getting today? Can you walk me through each one as you go?
What is causing my vision loss?
What symptoms may I experience due to this eye disease?
Are there any symptoms I should be concerned about if they happen?
What do I do if my symptoms get worse or I get new symptoms?
How often do I need to come in for an appointment?
Are you going to dilate my eyes today? If so, why?
Is there a treatment for my eye disease? If so, will it bring back my sight or prevent it from getting worse?
(If receiving a treatment) What will this treatment do?
(If you are receiving treatment) What are the risks and side effects of this treatment?
(If you are receiving treatment) Is this a one-time treatment or do I need to come back?
(If you are prescribed medication) What does this medication do?
(If you are prescribed medication) What should I do if I miss a dose?
(If you are prescribed medication) Do I need to take this medication forever?
(If you are prescribed medication) Are there other treatment options if this medication/treatment does not work?
(If you are prescribed medication) Is the medication/treatment you are prescribing covered by public or private insurance? If not, is there someone I can call to learn about payment options?
Is there anything I should do or avoid to protect my vision? Do I need special glasses or sunglasses?
Am I legally blind? If I am, what does this mean for me?
Am I entitled to any financial benefits or support services that can help me adapt to vision loss?
Who can I talk to about my emotions related to my vision loss?
Would I benefit from low-vision aids?
Should I consider genetic testing?
How can I find out more about clinical trials or vision research?
Who can I talk to about vision research?
AFTER YOUR APPOINTMENT
Access additional resources that may be helpful:
Join the Fight!
Learn how your support is helping to bring a future without blindness into focus! Be the first to learn about the latest breakthroughs in vision research and events in your community by subscribing to our e-newsletter that lands in inboxes the beginning of each month.