Dec 9, 2019
Karl Vanaselja Wins eSight Device!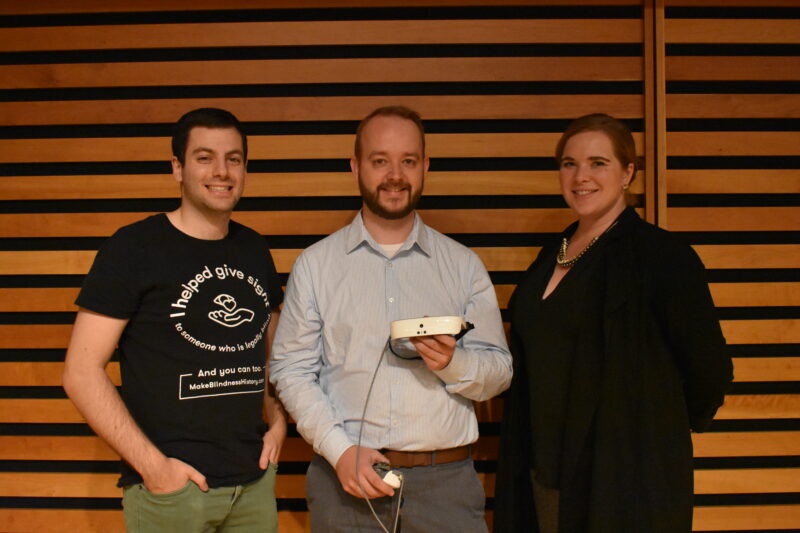 Fighting Blindness Canada is pleased to announce that the winner of its eSight Giveaway Campaign is Karl Vanaselja!
Karl, who is a software engineer living in Mississauga, entered the eSight Giveway after his girlfriend saw it on social media. Karl, who lives with Leber's hereditary optic neuropathy, works as a software engineer in Mississauga.
The giveaway was made possible thanks to the generosity of two members of FBC's community, who donated the device for the giveaway.
Esight is a revolutionary pair of electronic glasses that enhance sight for low vision users. Developed in Canada, esight works by capturing high-quality video and displaying it on two high-resolution screens directly in front of each eye. The footage is enhanced by custom optics and advanced computer software designed specifically for the visually impaired.
Karl came to the FBC offices in October to have his new eSight device calibrated. He was presented with the calibrated device at our Toronto Vision Quest in November.
"The eSight glasses have given me back a level of vision I didn't think I'd experience again" said Karl. "Being able to see across the room or pick up a book has been indescribable. I can't thank eSight enough for the work they've done to create such an incredible tool."
eSight is offering a special $79 promotion for Fighting Blindness Canada's community to experience eSight at home if you book before December 17th. To learn more, call 1-855-837-4448.
Join the Fight!
Learn how your support is helping to bring a future without blindness into focus! Be the first to learn about the latest breakthroughs in vision research and events in your community by subscribing to our e-newsletter that lands in inboxes the beginning of each month.