Sep 4, 2020
Looking into the genetics of inherited retinal diseases with Dr. Rob Koenekoop
Meet the Expert: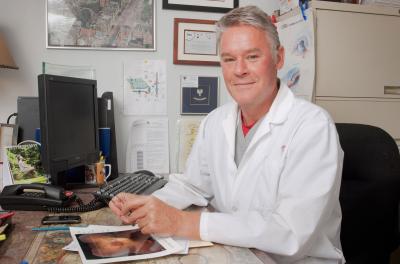 Dr. Robert Koenekoop is a Montreal-based clinician-scientist, meaning he is both a medical doctor, trained in Ophthalmology and also does research about inherited retinal diseases (IRDs). He's also a member of Fighting Blindness Canada's IRD Patient Registry Steering Committee working to bring more clinical trials to Canada. Keep reading to hear more from Dr. Koenekoop about his research and how this has led to new treatments for patients.
Q&A WITH DR. KOENEKOOP
What inspired you to focus your practice on inherited retinal diseases (IRDs)?
I was very fortunate to do a PhD in molecular biology first and then saw the genetics revolution brewing and saw how it was going to influence medicine and patient care. After my PhD I decided to go into medicine, but I did not yet know which area specialty. I was trying to figure out which diseases would benefit the most from genetics.
As I was finishing medical school, I looked back at some papers in the journal Nature (by Professors Frans Cremers and Professor Ted Dryja). These papers discussed the discovery of two genes that caused IRDs. From these papers I decided that discovering new genes for retinitis pigmentosa (RP) and other IRDs would open up a new world. I decided to enter Ophthalmology, training and becoming a clinician-scientist to move the boundaries of what was known about these "untreatable" diseases.
How has your research impacted your patients?
I started my career in 1995 and initially focused on finding new genes for RP, Leber congenital amaurosis (LCA), and other IRDs, because genes tell you what is going wrong with the retina. Back then, we did not predict an increase in therapeutic research. Over the next 10 years, along with my international collaborators (and with financial support from Fighting Blindness Canada), I was very fortunate to discover over 15 new genes for IRDs. These new genes taught us a lot about the retina, how it works and what happens when a gene is mutated. These new genes were added to the growing panel of IRD genes for genetic testing and today, we know over 250 genes.
I also work closely with Dr. Michel Cayouette who is the chair of FBC's Scientific Advisory Board. We have discovered three new retinal genes together, which has led to insights into how to fix the retina.
Another exciting result of gene discovery is seeing the process go one step further. First to pre-clinical treatment studies, then to human clinical trials. I discovered the genes LCA5 and CEP290 with Professors Anneke den Hollander and Frans Cremers and it is very special to see that LCA5 treatments in mice are successful. It is also very satisfying to see how our basic research supported by FBC has led directly to a clinical trial for patients with LCA who have CEP290 mutations that I am currently running. So far, this treatment appears to be safe and patients have experienced improvements in vision. It is very satisfying to discover a new gene for an IRD in a Quebec family and then to treat the same family and see the improvement.
Can you tell us about clinical trials that are taking place? How can patients get involved and is there anything patients can do to increase the number of trials taking place in Canada?
We are currently seeing an explosion of clinical trials for IRDs in Canada and around the world. I know of at least 30 trials, ranging from gene replacement, gene editing, stem cells, and several promising drugs. In Canada there are about 10 clinical trial studies. It is important for patients to have a detailed eye exam, see an IRD specialist and get genetic testing.
Patients can become advocates for change and for more clinical trials. Funding for research affects the speed of progress. More funding means faster progress in finding treatments. In addition, patients with IRDs should join the FBC Patient Registry –a medically secure database with information about Canadian patients with IRDs. Then if a scientist or a drug company has a new treatment, we know immediately how many Canadians are potentially eligible and where they are, so we can contact them with new treatments.
Why is genetic testing important if someone has an IRD?
I cannot over-emphasize how important genetic testing is for IRD patients. There are at least 4 reasons:
Finding the gene that causes a disease can give relief and understanding to the patient, family, and physician.
It confirms the diagnosis and means we can dismiss diseases that resemble RP, such as trauma or infection.
Genetic diagnosis helps in family, education, and work planning. It provides a guide to how vision loss may progress.
Many clinical trials are gene specific and require you to know your gene mutation.
What advice do you have for patients who want to get their genetic testing done or join clinical trials?
Genetic testing is getting better and faster. With modern gene testing, there is a 70% success rate in identifying the mutation and gene for IRDs. Patients are usually seen at a University hospital or academic center that has a medical genetics department and genetic counselors. In Canada, the cost of genetic testing is covered by all provincial government health plans but require a referral from your healthcare provider.
We are trying to make genetic testing more widely accessible, by involving optometrists, family doctors and pediatricians. If you know your gene, you can visit clinicaltrials.gov to see if there are clinical trials for which you may be eligible. Make sure to enrol in the FBC Patient Registry so you can be kept up to date on any new trials that you may be eligible to join.
Learn more from Dr. Koenekoop
Join the Fight!
Learn how your support is helping to bring a future without blindness into focus! Be the first to learn about the latest breakthroughs in vision research and events in your community by subscribing to our e-newsletter that lands in inboxes the beginning of each month.