Jul 30, 2018
National Young Leaders: a report on the 2018 Summit


"My perception of leadership has changed. I believe that leadership is not just about being a leader for yourself, but for your team and for what you stand for."
– 2018 Young Leaders Summit attendee
Fighting Blindness Canada's (FBC's) National Young Leaders Program is unique in Canada. Launched in 2015, it brings together youth affected by vision loss from across the country to collaboratively tackle obstacles faced in their schools, homes, jobs, and elsewhere. Young people—in this case, individuals aged 17-30—are increasingly faced with immense educational costs and precarious employment. To address these problems, the program was designed to have a distinct career inflection, providing mentorship and opportunities to develop career strategies. As evidenced by the quotation above, Young Leaders is also a chance to develop leadership skills: the program facilitates collective thinking on what it means to be a leader, and how that relates to one's daily activities in a communal setting. In fact, the program's participant-led structure reinforces leadership ideals, evolving in step with the combined vision of its members as they tackle challenges, and as the job market shifts to present new ones.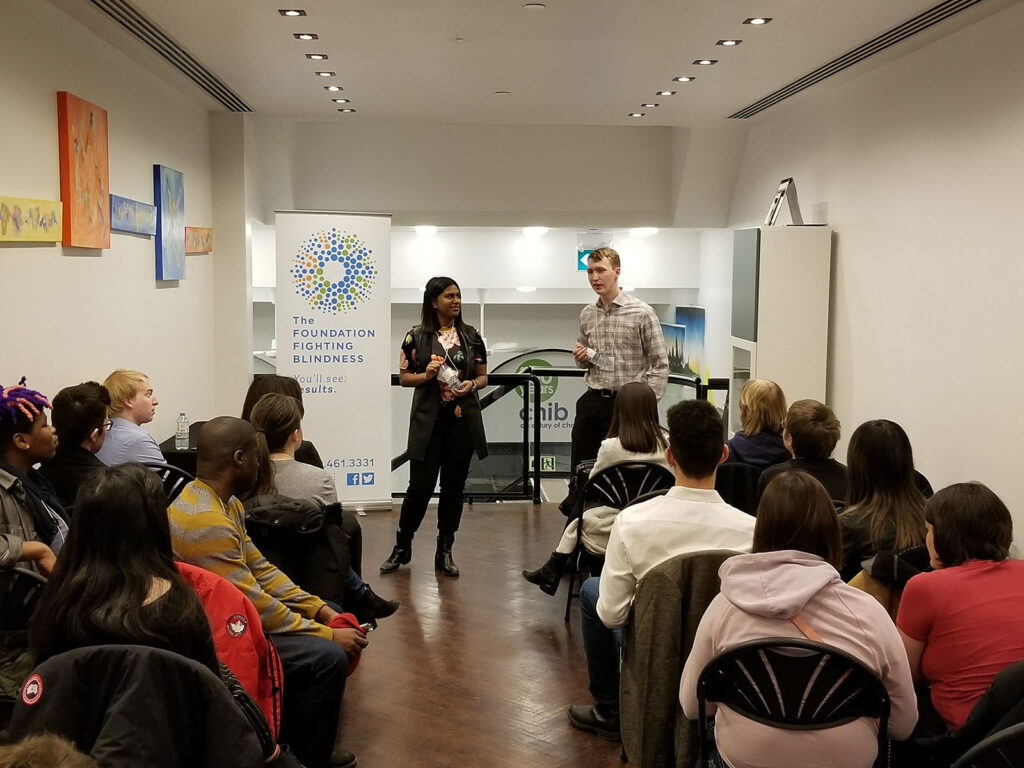 The initiative is oriented around an annual Summit held in Toronto, the most recent of which took place on March 9 and 10 this year at the CNIB Community Hub, a space offered generously by our friends at CNIB. Similar to previous years, participants at this year's Summit gathered over two days of intense programming to learn, meet others, and engage in dialogue. Conceptualized by the wonderful Young Leader co-chairs Shaini Saravanamuthu and Jack McCormick, the theme that tied the programming together was "finding a rewarding career," and it provided a constructive lens for thinking about networking, job skills, educational development, and more. These ideas were approached collaboratively and presented as topics that could be discussed and analyzed as a group. It may be a cliché to insist that two heads are better than one, but that was very much the case at the Summit, and the interactions that unfolded proved that career paths don't have to be paved in isolation; in fact, it's better when they're envisioned with the support of one's peers. We know that this is something that's too often lacking for young people with vision loss—groups, networks, collectivity, and so forth—and Young Leaders is designed to quell this kind of isolation.
Thirty young people attended the 2018 Summit from across the country, and if they came from outside Toronto they were provided with travel assistance. Thirty may seem like a small number, but the program's focus is on facilitating the development of leadership skills so that participants can return to their communities to instigate positive social change. That means that the program's reach is far more extensive. In fact, each participant was asked to extend the reach of Young Leaders by mentoring or recruiting at least two other individuals. Many participants have connected with more than two, so that means the network has extended to at least ninety individuals, but in all likelihood many more. That's a sizeable group of driven young people and a growing community with the potential to usher in real change.
The Summit brought together other stakeholders as well. Six people participated as speakers and panelists, including the keynote speaker Donovan Tildesley, the Paralympic swimmer and 2008 Paralympic flag bearer for Canada, who lives with blindness as a result of the rare disease Leber congenital amaurosis (LCA). Donovan engaged the group with an inspiring and personal account of his experiences, as well as ideas for how to achieve your goals, be successful, and—perhaps most importantly—find courage and happiness in the circumstances that have been handed to you. It was a rousing success.
A group of additional attendees joined the event's networking session. Generous friends of the organization who have experienced success in their careers, they spent two hours mingling with the group in an exercise designed to simulate a live networking scenario. It was more than just a "scenario," however: participants made real connections and left with tools that will help them navigate the complexities of the work force. They developed additional tools during the event's innovative workshops as well. While Dayna Schnell's workshop was an open conversation covering topics ranging from interviewing to revealing one's disability to coworkers, Lily Duong's offering outlined the RBC Career Launch Program and provided insights into job hunting. The workshops dovetailed nicely and offered participants the chance to interact dynamically. We are incredibly thankful that RBC sponsored the Summit, and it was ideal to be able to integrate two RBC staff who generously volunteered their time as workshop leaders. Interaction was central to Karen Kelsey's opening presentation as well. A Relationship Manager for Lime Connect, she discussed ways to think of disability in terms of achievement, rather than as a lack of hurdle. Her talk set the stage for so many of the interesting conversations that occurred over the remainder of the Summit.
Six incredible and hard-working volunteers made the Summit possible, as did the four staff who dedicated their time to pulling it all off. All told, an additional twenty-two individuals were there alongside the thirty attendees, bringing the overall reach of the event, if you include the community members benefiting from mentorship, to over a hundred. Seeing as Young Leaders began in 2015 as a rather small and informal gathering, that's a lot of growth.
Growth is central to the Young Leaders Program. The community is set to grow in numbers, certainly, but the program is about facilitating personal and interpersonal growth as well. It's about giving young people with vision loss the tools they need to connect with one another, to smash through barriers, to advocate for themselves, to lay foundations for social and political change, and to ultimately find livelihoods they're happy with. That's an important cause and it's one Fighting Blindness Canada is proud to be involved in.
Stay tuned for news on next year's Summit!
Join the Fight!
Learn how your support is helping to bring a future without blindness into focus! Be the first to learn about the latest breakthroughs in vision research and events in your community by subscribing to our e-newsletter that lands in inboxes the beginning of each month.