Stronger Together Visionary Reception 2022
After more than two long years apart, we are thrilled to invite you to an invitation-only in-person reception, for an unforgettable evening celebrating your commitment to supporting the best in vision research.
Thursday, October 13, 2022
Park Hyatt Toronto
4 Avenue Road
Terrace Room, 17th Floor
Guest Speakers
Dr. Eric A. Pierce • Harvard Medical School
Dr. Brian G. Ballios • University of Toronto
Doug Earle • President and CEO, Fighting Blindness Canada
---
About Our Speakers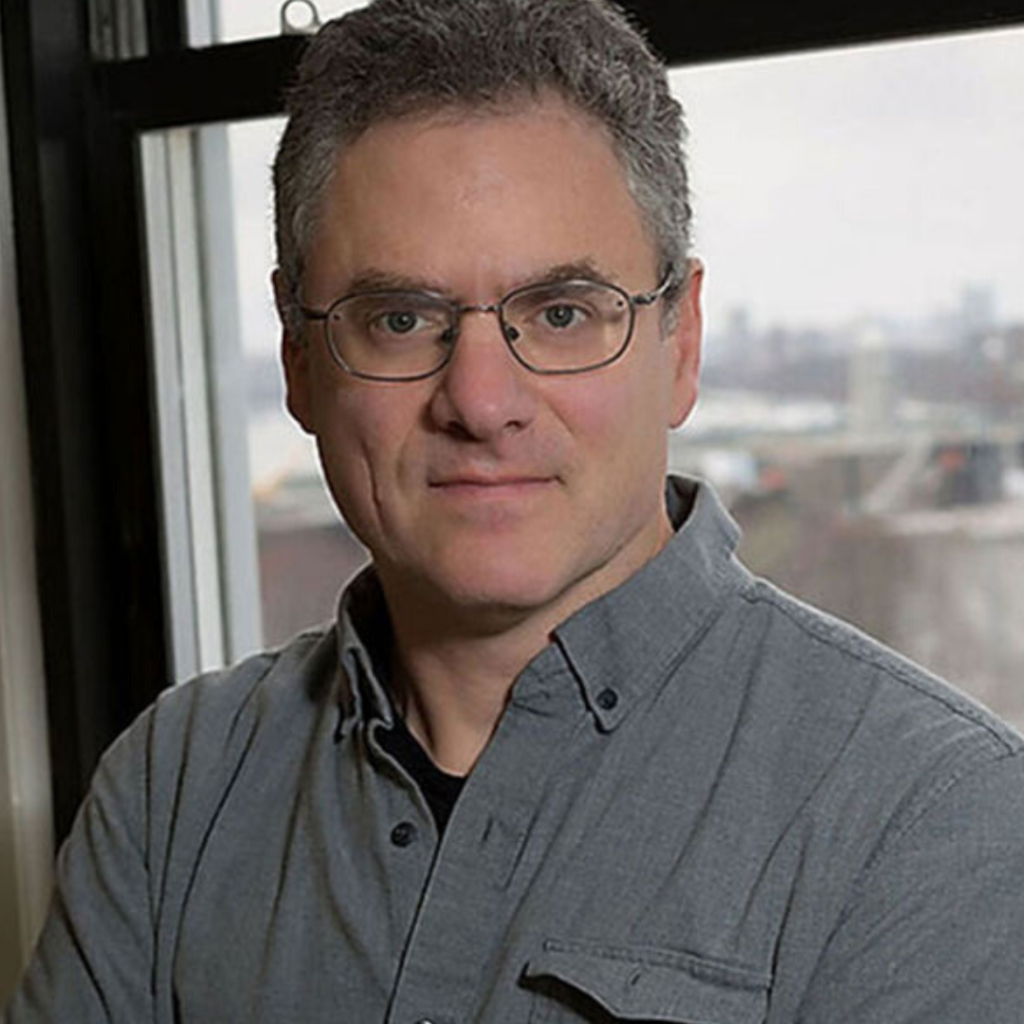 Eric A. Pierce, M.D., Ph.D.
William F. Chatlos Professor of Ophthalmology
Harvard Medical School
Director, Ocular Genomics Institute (Massachusetts Eye and Ear)
Director, Berman-Gund Laboratory for the study of Retinal Degenerations
Dr. Eric Pierce is the Chatlos Professor of Ophthalmology at Harvard Medical School, and the founding Director of the Ocular Genomics Institute (OGI) at Massachusetts Eye and Ear. Dr. Pierce received his A.B. in Biochemistry from Dartmouth College, his Ph.D. in Biochemistry from the University of Wisconsin-Madison, and his M.D. from Harvard Medical School. He did his residency in Ophthalmology at Harvard and fellowship in Pediatric Ophthalmology at Children's Hospital, Boston where he also took his first faculty position. He was then recruited to the Department of Ophthalmology at the University of Pennsylvania School of Medicine, where he was promoted to Associate Professor with tenure. He returned to Harvard in 2011 to establish the OGI. The mission of the OGI is to translate the promise of precision medicine into clinical care for patients with inherited eye diseases. Dr. Pierce's research program is focused on improving our understanding of the genetic causality of inherited retinal degenerations (IRDs), and developing genetically informed therapies for these disorders. His work has lead to the identification of several IRD disease genes, helped highlight the importance of non-coding mutations in IRDs, and supported clinical translation of genetic therapies for several genetic forms of retinal degeneration.
Dr. Pierce has been an investigator for multiple first-in-human clinical trials of genetic therapies for IRDs, and is the senior PI for the Brilliance trial of in vivo genome editing for the treatment of CEP290 associated retinal degeneration. Dr. Pierce's research program has been funded by the NIH since 1994. He has also received support from the Foundation Fighting Blindness, and Research to Prevent Blindness, among other foundations. Dr. Pierce received an Alcon Research Award, an RPB Stein Innovation Award, and is the 2023 recipient of the Proctor Medal from ARVO. He served for 10 years as the Chair of the Scientific Advisory Board for the Foundation Fighting Blindness, as a member of the National Advisory Eye Council, and is currently Chair of the Pathophysiology of Eye Disease 1 (PED1) study section of the NIH.
---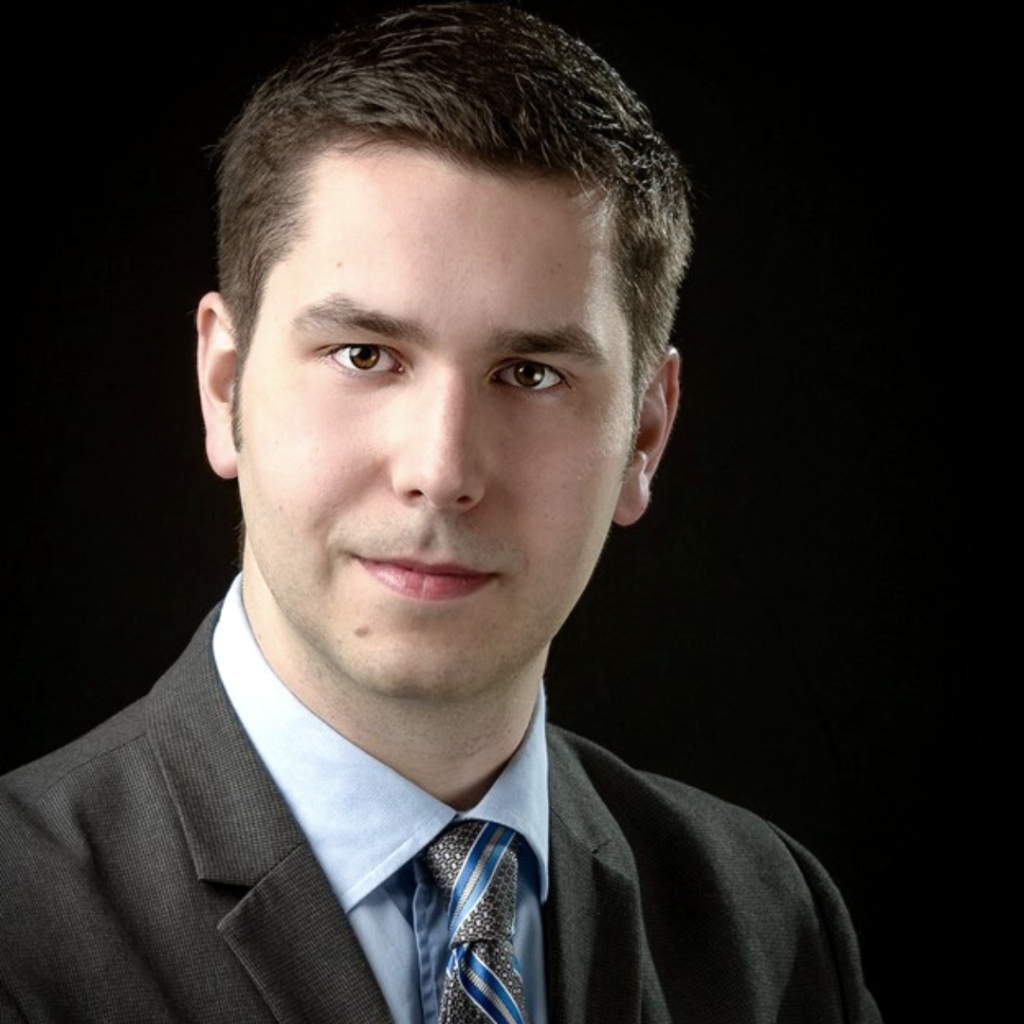 Brian G. Ballios, M.D., Ph.D., FRCSC, DABO
Assistant Professor, The J. Ardeth Hill – Fighting Blindness Canada Professor in Ocular Genetics Research
Department of Ophthalmology and Vision Sciences, University of Toronto
Clinician-Scientist, Retinal Disease and Ocular Genomics
Donald K. Johnson Eye Institute, University Health Network
Kensington Vision and Research Centre
Staff Ophthalmologist, Retina Specialist
John and Liz Tory Eye Clinic, Sunnybrook Health Sciences Centre
Associate Member, Institute of Medical Science
Associate Member, Laboratory Medicine and Pathobiology
School of Graduate Studies, University of Toronto
Scientist: Krembil Research Institute, University Health Network
Dr. Ballios is a fellowship-trained clinician-scientist, with a focus on medical retinal disease and a subspecialty in inherited retinal disease. He is an Assistant Professor in the Department of Ophthalmology and Vision Sciences at the University of Toronto. He holds appointment as clinician-scientist at the University Health Network in the Donald K. Johnson Eye Institute, and is a staff physician at Sunnybrook Health Sciences Centre, and the Kensington Vision and Research Centre. He is a Scientist at the Krembil Research Institute where he has a laboratory investigating the mechanisms of acquired and inherited retinal disease, and the development of new stem cell-based therapies.
Dr. Ballios obtained his MD and PhD degrees at the University of Toronto in the combined MD/PhD program. With a background in material science and Engineering Chemistry (Queen's University), his doctoral work focused on new approaches to the transplantation of stem cells and their progeny for the treatment of retinal degeneration. After completing his FRCSC in Ophthalmology at the University of Toronto, he undertook a subspecialty clinical fellowship in Inherited Retinal Disease at Massachusetts Eye and Ear and Harvard University.
---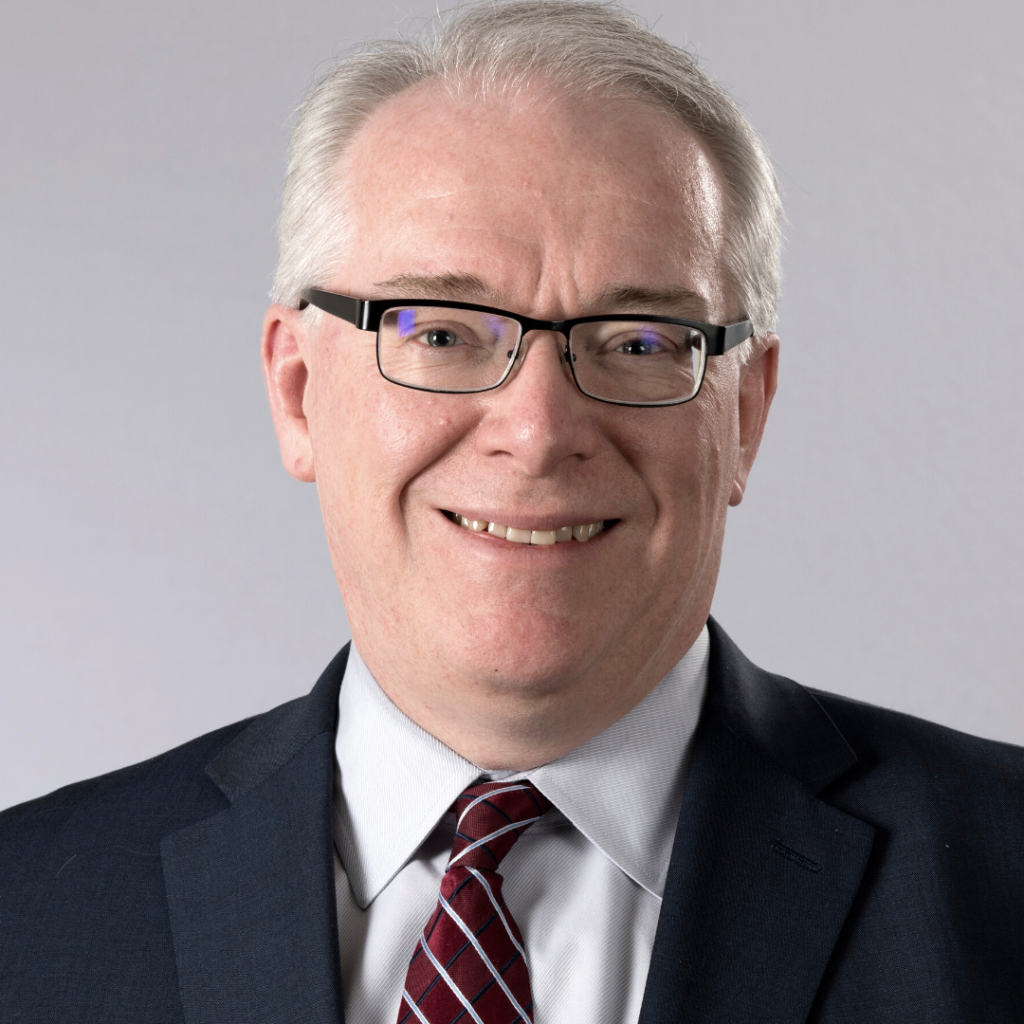 Doug Earle, CEO & President
Fighting Blindness Canada
Doug Earle joined Fighting Blindness Canada (FBC) in December 2018 as President and CEO. Since then, he has been leading FBC through a transformation to accelerate research into all blinding eye diseases in order to accelerate the discovery of treatments and cures for blindness and to improve access to innovative gene and cell therapies, and medications for Canadians.
In February 2020, Doug co-chaired the Canadian Vision 2020 Summits with Michael Baillargeon from the Canadian Council of the Blind, consulting widely with the vision loss community and its medical professionals to: identify research priorities, improve living with a blinding eye disease and define our advocacy agenda for improve access to vision care.
Doug Earle has built strong collaborative partnership within the vision loss community recognized by receiving in 2021 the Canadian Council of the Blind's President's Award and Ontario Association of Optometrists' Achievement Award. He was the Project Co-Lead for Cost of Vision Loss and Blindness in Canada Report in 2021 and The Impact of COVID-19 on Vision Health in 2020 addendum. He was co-author of publication in Clinical Ophthalmology on the Impact of Inherited Retinal Diseases in Canada and the United States in 2021.
Over Earle's 30-year career, he has served in progressively more senior roles at five health charities, two hospitals, two universities, and TVOntario. He played instrumental roles in the advocacy that led to the Krever Commission of Inquiry on the Blood System in Canada and compensation for people living with HIV and hepatitis C through tainted blood, and has worked with philanthropists to fund millions in medical research and other projects.
Access an accessible version of our visionary reception invite here.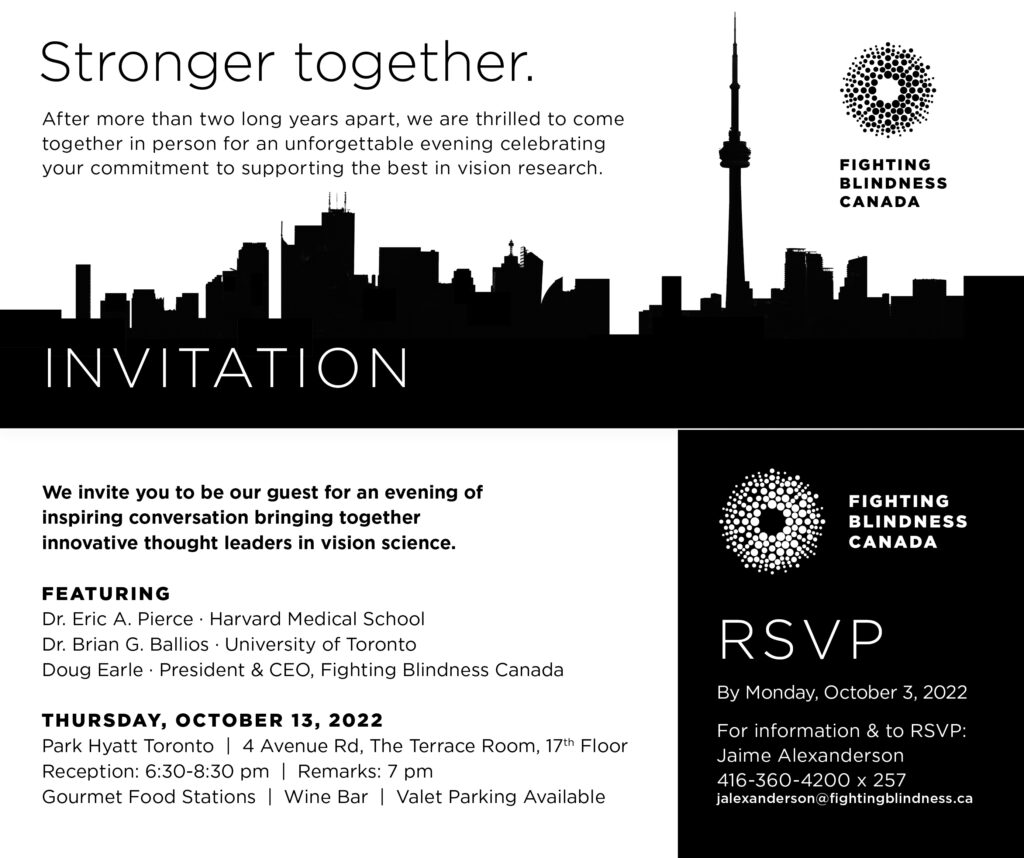 Join the Fight!
Learn how your support is helping to bring a future without blindness into focus! Be the first to learn about the latest breakthroughs in vision research and events in your community by subscribing to our e-newsletter that lands in inboxes the beginning of each month.