Jun 5, 2023
Ali Usman shares his experience at FBC's Young Leaders Calgary Program
Ali Usman attended Fighting Blindness Canada's Young Leaders Calgary program in May 2023 to connect and learn from other young adults living with vision loss. Ali lives with retinitis pigmentosa, also known as RP, and is a scientist pursuing a PhD in experimental physics. We connected with Ali to learn more about his vision loss journey, what he enjoyed most about the program, and his advice for other young adults living with vision loss looking to develop their education and career.
A Q&A with Ali Usman
Share with us a bit about your vision loss journey.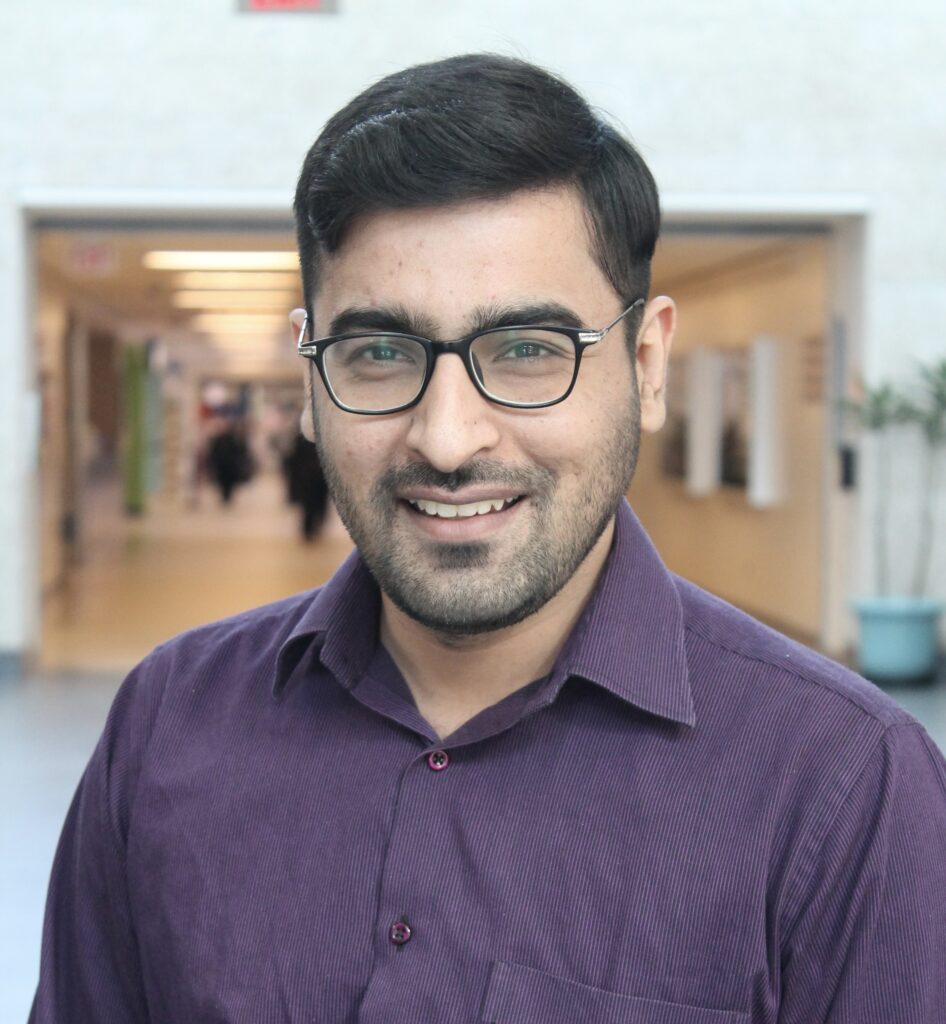 I was born and brought up in a country with limited health facilities therefore my vision loss due to retinitis pigmentosa has presented unique challenges. From a very young age, I knew that I had to use glasses to correct my vision but I didn't know the extent of my condition. My actual diagnosis started recently, after I moved to Canada, and it has been a continuous journey. As a scientist pursuing a PhD in experimental physics, my journey has been shaped by both my passion for scientific exploration and the challenges posed by my vision impairment. Despite the obstacles, I have developed resourcefulness and adaptability, relying on innovative techniques and assistive technologies to overcome limitations in the laboratory. I remain committed to pushing the boundaries of knowledge, leveraging my scientific expertise, resilience, and problem-solving abilities to contribute to cutting-edge research. Additionally, my vision loss journey has motivated me to be more empathetic and understanding towards others facing their own challenges.
How did you learn about Fighting Blindness Canada's Young Leaders Program?
I first learned about Fighting Blindness Canada's Young Leaders Program through the CNIB (Canadian National Institute for the Blind). Through their extensive network, CNIB introduced me to Fighting Blindness Canada as a valuable organization to connect with like-minded individuals and gain further support in my personal and professional development. The program's emphasis on fostering leadership skills and advocacy resonated with me, and I eagerly pursued the application process to become part of this inspiring initiative.
What did you enjoy most about attending Young Leaders Calgary?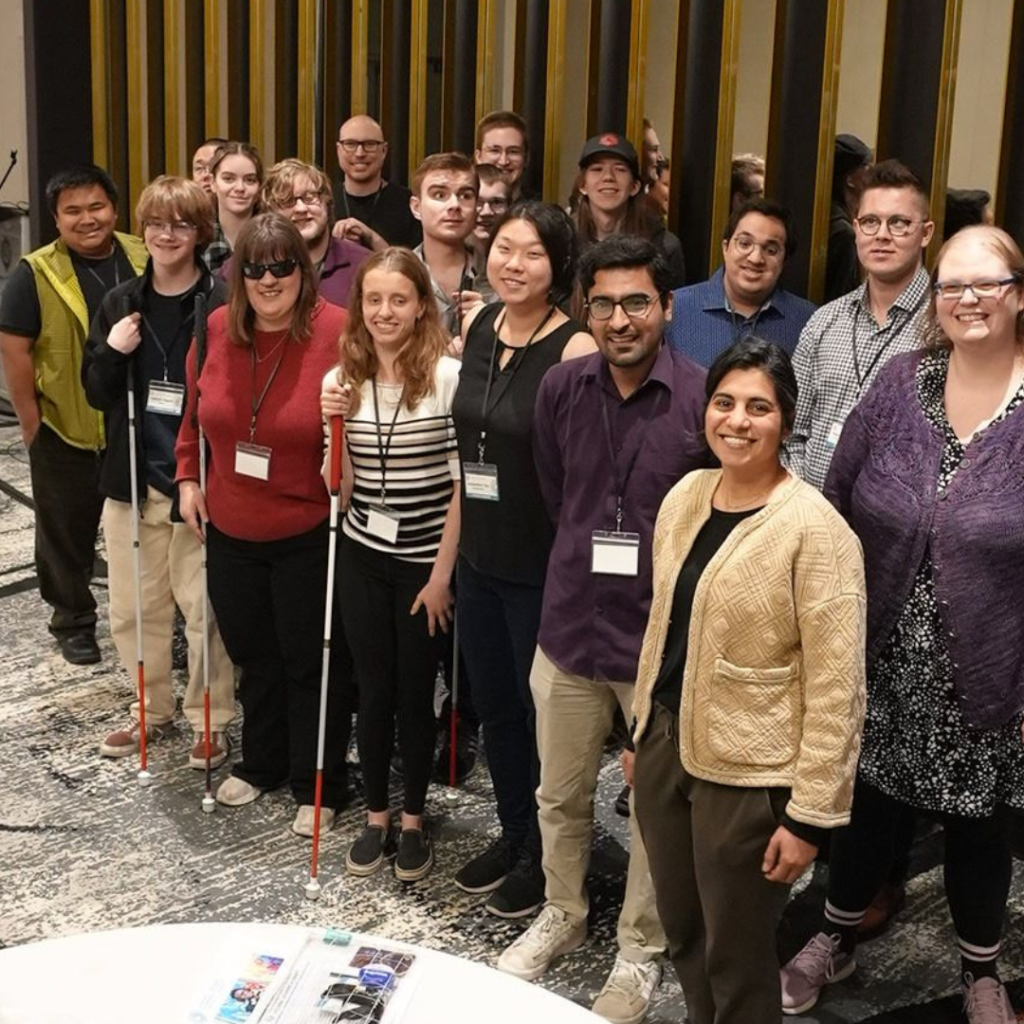 What I enjoyed most about attending Young Leaders Calgary was the opportunity to network and socialize with individuals who, like me, are navigating their own vision loss journeys. The event created a welcoming and accessible environment that brought together a diverse group of people, allowing us to connect and share our life experiences. The programs were well-thought-out and planned, encouraging engagement and interaction between attendees and event chairs. Additionally, the hotel and food provided during the event were of excellent quality and accessibility, ensuring everyone's comfort and enjoyment. This was my first experience at a Young Leaders program, and it left such a positive impact that I am eager to stay involved and look forward to attending future events
Share one valuable takeaway you learned at Young Leaders Calgary.
The most valuable takeaway for me was the realization that vision loss does not define me as a person. Instead, I learned that I can use my vision loss to showcase my resilience and unwavering commitment to my work. Despite facing this challenge, I discovered that I am capable of accomplishing almost everything that a sighted person can do. In fact, I have acquired additional skills, such as effectively utilizing assistive technology and making things accessible not only for myself but also for others. This experience at Young Leaders Calgary reinforced my belief that my vision loss does not hinder my potential; rather, it empowers me to overcome obstacles and contribute my unique abilities to the world.
Any words of advice for other young adults living with vision loss as they navigate their education or career?
My advice to other young adults living with vision loss is as follows:
First and foremost, own your vision loss and be proud of yourself. Embrace it as a part of your identity and recognize the unique strengths and perspectives it brings.
Secondly, believe that you can achieve almost anything you set your mind to. Passion and determination are key drivers of success, so find what you are truly passionate about and pursue it wholeheartedly.
Thirdly, make use of the available resources and assistive technologies to stay productive and engaged in your education or career. These tools can greatly enhance your abilities and empower you to overcome challenges.
Additionally, seek out like-minded individuals who have similar challenges and experiences. Building a support network of people who understand and share your journey can be invaluable for inspiration, guidance, and encouragement.
Lastly, do not allow others to define your life. Trust in your talents, skills, and potential. Embrace your unique perspective and use it as a catalyst for innovation and creativity. Remember that your vision loss does not limit your aspirations or accomplishments. With self-confidence and determination, you can forge a path of fulfillment and success in your education and career.
---
Thank you to Ali Usman for joining us this past May for our Young Leaders Calgary program and for sharing his vision loss story and Young Leaders experience with us.
To learn more about the program and upcoming Young Leaders opportunities, visit fightingblindness.ca/events/young-leaders.
---

Join the Fight!
Learn how your support is helping to bring a future without blindness into focus! Be the first to learn about the latest breakthroughs in vision research and events in your community by subscribing to our e-newsletter that lands in inboxes the beginning of each month.