May 4, 2022
Cycle for Sight: Building Back Stronger
Register and Join us Today
After two years of virtual events, Cycle for Sight is back in-person, and we couldn't be more excited to move with you again! Since its inception in 2009, more than 4,000 participants have cycled, walked, ran, swam, kayaked, and more, all in support of Fighting Blindness Canada (FBC). Our incredible participants have raised more than $6 million for essential, sight-saving research.
This year, Cycle for Sight will be taking place across Canada, at locations in Ontario, the West Coast and in Newfoundland/Labrador. And there's still the option to participate virtually, anywhere, anytime! We invite you to register, fundraise and join us as together, we MOVE research forward!
tHE vIRTUAL rIDE
Anytime, Anywhere, join us virtually and get moving! There are no fundraising minimums for the virtual ride, and registration is free with the code 'VT RIDER'. If you aren't able to cycle, then set a different fitness goal. Run, walk, climb stairs, jump rope, try yoga…choose your own athletic pursuit! On June 18th, join us online for the virtual celebration and be part of the excitement. Register today to gain access to the Cycle for Sight Virtual website, where you'll find tons of ideas for fun activities and physical challenges to get moving for Fighting Blindness Canada.
tHE iN-PERSON rIDES
Our West Coast ride takes place at the charming West Langley Hall, less than one hour east of Vancouver. Our riders enjoy a scenic and fully-supported route, and then return to an amazing finish line celebration with a delicious BBQ and lots of family and friends. Click HERE to learn more about the Langley ride and register today!
Our GTA ride takes place at the lovely Gibson Centre in Alliston, approx. 1-hour north of Toronto. Our riders will enjoy a picturesque route, fully supported by our team, and then return to an elevated finish line celebration with delicious food, high fives, and lots of fun. Click HERE to learn more about the Alliston ride and register today!
Our East Coast ride takes place along the beautiful Newfoundland T'Railway, starting and finishing at the Park Place Community Centre in Mount Pearl. Our riders enjoy a scenic and fully-supported route, then return to an amazing finish line celebration with a delicious BBQ and lots of family, friends and fun times. Click HERE to learn more about the Mount Pearl ride and register today!
Your Impact
To date, FBC has contributed over $40 million towards sight-saving research to advance new treatments and cures for blinding eye diseases. This never would have been possible without the support of our incredible fundraisers. It's thanks to people like YOU that we're able to fund the work of researchers who are making progress in research to restore vision. With your help, we can continue to strive to restore the sight of 1.2 million Canadians and prevent blindness for over 8 million Canadians who are living with a blinding eye disease.
Fundraising Incentives
Need another reason to participate? We've got some awesome incentives for you this year to reward your fundraising efforts!
Reach the $250 level, and you'll receive a pair of snazzy Cycle for Sight performance socks.
At $500, you'll receive our exclusive Cycle for Sight 2022 jersey.
Reach the $750 level to complete your fashion ensemble with the matching Cycle for Sight cycling cap.
And if you're really feeling motivated, aim for the $1,500 level to become a Cycle for Sight Champion and receive an icebreaker® long-sleeve performance shirt, plus free registration for Cycle for Sight 2023!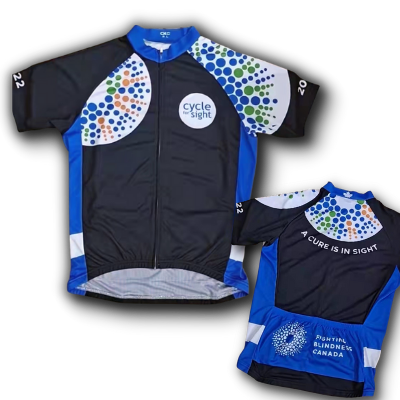 On top of those amazing prizes, all registrants will receive a FREE month of digital spin classes from Mike Porter at Positive Edge. You can see all the prizes and grab a few fundraising tips on the website HERE.
Register and start fundraising today
So, what are you waiting for? Sign up today for Cycle for Sight. You'll support vital vision research seeking a cure for blinding eye diseases, challenge yourself with an athletic pursuit, and have lots of fun with friends and family. Together, Let's MOVE vision research forward.
---

Join the Fight!
Learn how your support is helping to bring a future without blindness into focus! Be the first to learn about the latest breakthroughs in vision research and events in your community by subscribing to our e-newsletter that lands in inboxes the beginning of each month.