Apr 9, 2020
Dr. Tianwei Zhou named 2020 recipient of FBC's Clinician Scientist Emerging Leader Award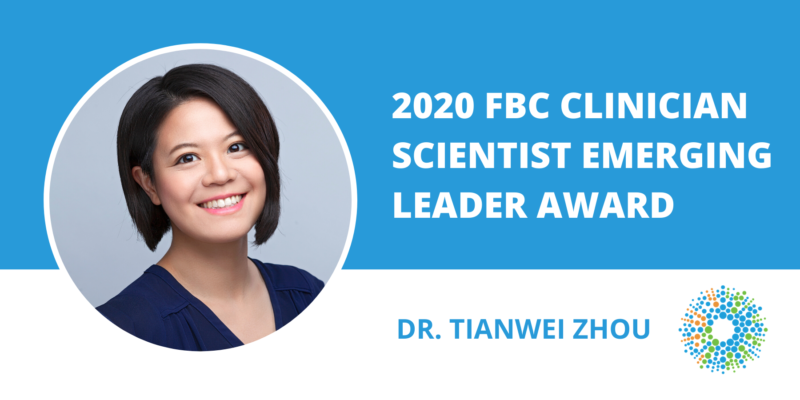 Dr. Tianwei Zhou has been announced as this year's winner of Fighting Blindness Canada's Clinician Scientist Emerging Leader (CSEL) award.
Dr. Zhou is an ophthalmology resident from the Université de Montréal. Mentored by Dr. Patrick Hamel, Dr. Cynthia Qian, and Dr. Flavio Rezende, she is studying retinopathy of prematurity (ROP) – a blinding eye disease in preterm babies caused by abnormal blood vessel development in the retina. ROP is a leading cause of blindness in children in North America and Europe. Researchers are still uncertain about the long-term consequences of ROP.
The project, entitled "Seeing into the future – understanding the long-term sequelae of Retinopathy of Prematurity," is a clinical translation of Dr. Zhou's doctoral thesis. Carried out during her MD-PhD training (joint completion of a medical degree and a doctoral thesis) at McGill University, her project described, for the first time, significant vision loss and signs of premature aging in an animal model of ROP.
As part of the CSEL award, Dr. Zhou will receive a grant of $60,000 over two years. Her project aims to explore if young patients with ROP are at a higher risk of significant vision loss or other eye diseases as they age. Thanks to the improvement in neonatal care during the 1980's, more preterm babies survived and many of them are now young adults. Dr. Zhou says, "The timely detection of long-term consequences of ROP provides an early opportunity to intervene and prevent further vision loss."
Furthermore, Dr. Zhou expresses, "In recent years, the clinician-researcher training pipeline has begun to dwindle, but the research career remains a powerful driving force for clinical innovation. FBC's CSEL award is an opportunity for ophthalmology residents to pursue their passion in research."
About the CSEL Award
Grant funding for FBC's 2020 CSEL Award comes from the late Doreen Marjorie Powles, a resident of Banff, Alberta, who lived with congenital blindness and instructed her estate to support vision research. 
The CSEL award aims to strengthen the community of clinician-scientists with ophthalmology expertise. By investing in the next generation of ophthalmologists, FBC is ensuring that discoveries made in lab can be translated into treatments as quickly as possible for all Canadians living with vision loss.
This marks FBC's third CSEL award competition, with previous funding going to Dr. Brian Ballios at University of Toronto, Jacob Rullo at Queen's University and Matthew Benson at University of Alberta.
Join the Fight!
Learn how your support is helping to bring a future without blindness into focus! Be the first to learn about the latest breakthroughs in vision research and events in your community by subscribing to our e-newsletter that lands in inboxes the beginning of each month.