Sep 26, 2022
FBC scientists collaborate to identify new gene for retinitis pigmentosa
Teamwork really does make the dream work! We are excited to share news of a Fighting Blindness Canada (FBC) funded discovery recently published in the journal Science Advances achieved through a collaboration between two long-time FBC advisors, Dr. Michel Cayouette (IRCM, Université de Montréal) and Dr. Robert Koenekoop (Montreal Children's Hospital).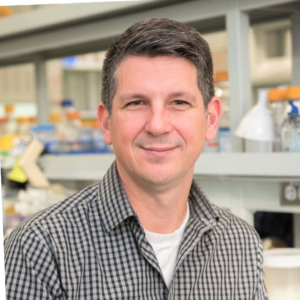 Identifying genes that cause childhood blindness provides crucial information about their disease and disease progression for patients and their families. Knowing the genetic cause of an eye disease also opens the door to being able to enrol in new clinical trials or be eligible for gene-specific therapies. In this study, mutations in the gene BCOR have been identified as causing early-onset retinitis pigmentosa (RP).
Dr. Koenekoop, a pediatric ophthalmologist launched this project when he identified mutations in BCOR in a Quebec family who had three young boys with vision loss. The BCOR gene, was previously known to be involved in the development of B-cell lymphoma and other cancers, but in this case the boys had vision loss but did not have cancer. Following this discovery, BCOR mutations were found in four additional families that also had early onset RP. To understand how mutations in BCOR might cause retinal degeneration, Dr. Koenekoop reached out to researcher Dr. Cayouette, an expert on retinal cell biology.
The BCOR protein controls when different genes are turned on or off. Dr. Cayouette's team showed that BCOR can specifically control genes important for photoreceptor function. They also found that certain mutations in BCOR (such as those found in the Quebec family), cause BCOR to block or turn off these photoreceptor genes. This disrupts the development and function of photoreceptor cells and leads to retinal degeneration and RP.
This project is a wonderful example of how discovery science and clinical research compliment each other, leading to the identification of a new causal gene for RP and increased understanding of how it can cause retinal degeneration. This work was also the result of long-term support from our generous FBC donor community. It wouldn't have been possible without you!
---
Interested in supporting ground-breaking vision research? Learn how you can give a gift today.
Join the Fight!
Learn how your support is helping to bring a future without blindness into focus! Be the first to learn about the latest breakthroughs in vision research and events in your community by subscribing to our e-newsletter that lands in inboxes the beginning of each month.