Aug 9, 2022
Bringing Lived Experience to the Forefront: The Importance of Patient Partners on Research
"Have you tried wearing glasses?"
"Have you ever tried going to an eye doctor?"
"Do you eat enough carrots?"
These are just a few questions Mary Kate Fraser and Conrad Eder have been asked when disclosing their vision loss to friends and new acquaintances. Mary Kate and Conrad have been involved with Fighting Blindness Canada's (FBC) Young Leaders program over the past several years. This summer, they joined us for an exciting new project – providing the patient perspective at a summer school for aspiring vision researchers.
The Vision Restoration Summer School is a new initiative developed by the Vision Health Research Network (VHRN) in Quebec. Forty-nine people attended the school, including world class faculty, students and post-docs, patient partners, and FBC representatives. The goal of this program was to train the next generation of vision scientists by exposing them to inspiring topics in an immersive environment and provide them with ample opportunities to network and share knowledge.
A broad range of current topics were covered including corneal regeneration, retinal circuit and function, stem cells and cell regeneration, brain and perception, vision rehabilitation, and optogenetics. But something that made this session unique, was the inclusion of patient partners, allowing the students to learn more about the lived experiences of individuals with vision loss and allowing those with vision loss to get an inside peek at exciting research prospects. On the first day of summer school Mary Kate and Conrad participated in a panel discussion in which they shared about living with retinitis pigmentosa and answered questions from the audience about living with vision loss.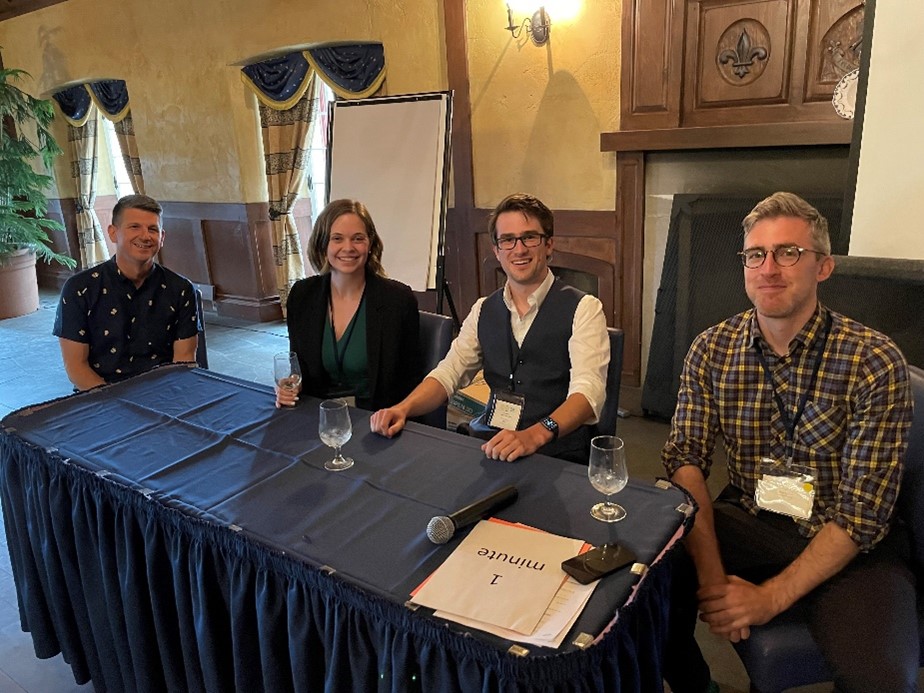 Dr. Stuart Trenholm, Assistant Professor and head of the Trenholm Lab at McGill University, was one of the summer school organizers and is a strong advocate for patient partner inclusion. He spoke to us about patient participation at the summer school.
"For researchers, what we do in the lab can sometimes be very technical and narrowly focused, so it's critical that we interact with people with lived experiences related to what we are studying to ensure we don't lose track of the human element. At the Vision Restoration Summer School, the involvement of FBC provided a unique opportunity for students and postdocs to meet with Mary-Kate and Conrad, and learn about their lived experiences, as well as their hopes and concerns. As an added benefit, it forced the students and postdocs to hone their skills discussing their own research, in relatable terms, with non-scientists who had a keen interest in what they were working on. In short, I think this was a huge success and we have received immensely positive feedback from the summer school participants about the involvement of the patient partners."
Mary Kate Fraser is a project manager at Trillium Health and lives with retinitis pigmentosa. She has been involved with FBC's Young Leaders program for many years, including its mentorship program. Mary Kate has a keen interest in science and was excited for the opportunity to both share her perspective and learn more about vision research. She spoke of her experience,
"I was very eager to attend the Vision Health Restoration Network Summer School and meet scientists who are working to understand the basic biology that enables vision. I was a bit nervous that I wouldn't understand a lot of the core biological and scientific concepts, but the participants were wonderful at explaining their current research and potential impacts to patients down the road.

Attending summer school was a wonderful reminder of all the work that goes on in the scientific community prior to the development of a potential treatment. I feel that I have a better understanding of some of the mechanics involved in the development of the visual system.

Another benefit of attending, was the ability to participate in the patient partner panel . I had a lot of anticipation about participating in the panel, given that a lot of the attendees work in basic research, I was curious what they would want to know about patient perspectives. Many of their questions were related to how we see the world, interact with our physical surroundings, and the affects of vision loss on social interactions, which are questions that can't be answered in a lab. I felt that it was important to share the perspective of living with RP to bring an understanding of the functional impacts of the condition. There were meaningful discussions about lifestyle modifications, and compensatory behaviours that helped facilitate discussions on the desired outcomes of potential treatments."

The first Vision Restoration Summer School took place in July 2022 in the town of St Paulin Quebec. Participants and organizers hope that this will become a regular event that inspires collaboration and sharing of ideas for years to come.
---

Join the Fight!
Learn how your support is helping to bring a future without blindness into focus! Be the first to learn about the latest breakthroughs in vision research and events in your community by subscribing to our e-newsletter that lands in inboxes the beginning of each month.