Sep 30, 2022
Stepping out of your comfort zone and manifesting opportunities with Nick D'Ambrosio.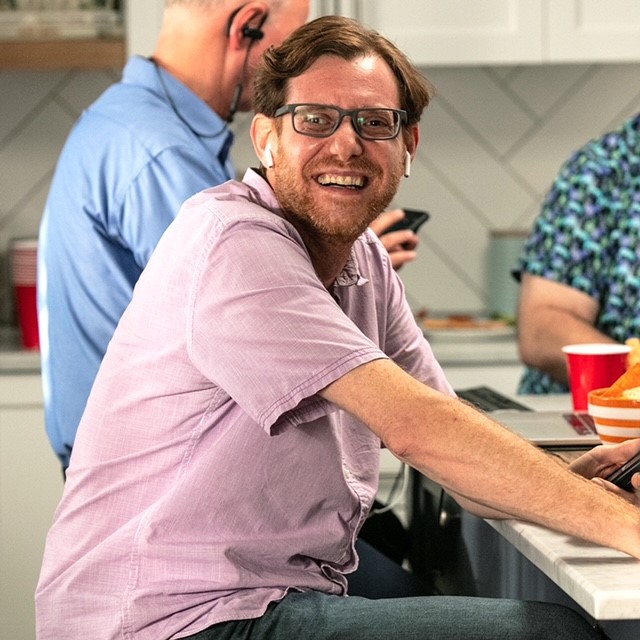 Nick D'Ambrosio is a 51-year-old Italian Canadian from Montréal, Québec living with sight loss due to an inherited retinal disease called retinitis pigmentosa (RP). Following an early diagnosis, Nick found it difficult to accept how his life might change due to deteriorating vision. After several years of working through challenging experiences and complicated emotions, Nick found himself at the helm of community representation and what it means to "put yourself out there."
We connected with Nick to learn more about his experience with RP, his career opportunities, and advice he has for others who may feel isolated by vision loss.
What are your experiences with vision loss?
I was diagnosed with RP at 5 years old. I am 51 now – it's been a long journey.
When I was young, I remember telling my mom that her shirt was dirty. What I didn't see was that she was wearing a broach, which to me looked like a stain. I was taken to a doctor shortly after and was told I had astigmatism. I was then diagnosed with RP almost right away.
Unfortunately, I was stubborn in accepting my vision loss and tried to hide my need for support.
When I was 18 years of age, I recall smashing into a parked car while riding my bike. I was lucky to have not been seriously injured. Despite this embarrassing experience, I continued to pretend things were fine for many years. It wasn't until my parents passed that I realized I needed to find independence and ask for help.
What are some milestones or career-changing moments for you?
In my early twenties, I applied for a job in bookkeeping. Unfortunately, I was unable to keep up with tasks required and was let go. This was an incredibly low point for me. I had spent many long hours studying for accreditation with hopes of bookkeeping becoming a career path. When it didn't work out, I was devastated.
I shared what happened at the time with my father; I don't know that he intended his advice to be taken word-for-word, but he said, "Why don't you try a pharmacy job or something?" I just went for it and now it's been almost 25 years. Working in a pharmacy offered me independence and, after spending some time in my role and with my colleagues, I feel like it's my second home.
How did you become involved with the vision loss community?
My sisters were always encouraging me to talk to others in the vision loss community. With their motivation and my desire to get out there, I became involved with the MAB-Mackay Rehabilitation Center (formerly known as the Montreal Association for the Blind). I worked with supportive counsellors there who encouraged me, and I became more comfortable with my vision loss.
I also joined the Alliance for Equality of Blind Canadians (AEBC) and had a goal to attend their Toronto Symposium. I had never travelled outside of Montréal before and really wanted to go but I wasn't sure I would be able to go on my own. A representative from AEBC, Ron Pelletier, encouraged me and even offered to go with me. During that trip, I met Dr. Leo Bissonnette on the train who connected me with Accessible Media Inc. (AMI). This led me to do an introspective on working at my pharmacy, which then led to community reporting.
I was also featured by Yahoo Presents on the All Blind Football League that I'm a part of. I had been playing fantasy football for over 30 years but stopped playing because of my vision loss. Then, through the blind community, I learned about the All-Blind league and have been doing it for over 6 years.
What advice would you give others living with vision loss on navigating a professional career or volunteering?
You never know when the next opportunity is going to come your way. It's important to put yourself out there.
There was an event being hosted through the CNIB Foundation that I wanted to go to. Unfortunately, I didn't know anyone at the time who was able to attend with me, so I decided to go alone. This is something at the time I had never done before. I was nervous but I went. While standing outside of the venue before the event started, someone recognized me from my work with AMI and asked me if I was available to do a quick on-site community report. I was nervous but agreed to it!
I still laugh about this opportunity; I know it happened because I went outside of my comfort zone. It reminds me of the saying I heard years before, "good things happen to those who show up."
What are your hopes for the future of vision research?
I used to see inherited retinal disease specialist, Dr. Rob Koenekoop (Montreal Children's Hospital). He was an incredible support for me and I know there continues to be great research being conducted by him and many other researchers in the field.
I have hope for vision research taking place today and look forward to the community being able to have a future with vision!
What is next for you?
Though I have had tremendous experiences working with organizations and media outlets, I'm excited about stepping back and enjoying family life.
I never thought I would say this, but I've met someone, her name is Edith. She pushes me to stay open and try new things. We even split all the housework fifty-fifty! We're planning trips for the future and I'm looking forward to it.
I have worries for the future, which include my vision. Right now, I have some light perception which helps me navigate but I don't know how long I will have this. I also think about my professional life. As I approach 25 years with the pharmacy, I consider what it might be like to retire, but I am keeping myself open to what is available out there. I want to let life dictate itself.
---
We would like to thank Nick for sharing his vision story with us. It has inspired us and hope it has brought inspiration to you too.
Living with vision loss? Want to share your journey with us? Fill out our story form.
Join the Fight!
Learn how your support is helping to bring a future without blindness into focus! Be the first to learn about the latest breakthroughs in vision research and events in your community by subscribing to our e-newsletter that lands in inboxes the beginning of each month.