Feb 6, 2023
FBC's Cycle for Sight Volunteer Shares What it means to be Part of the Movement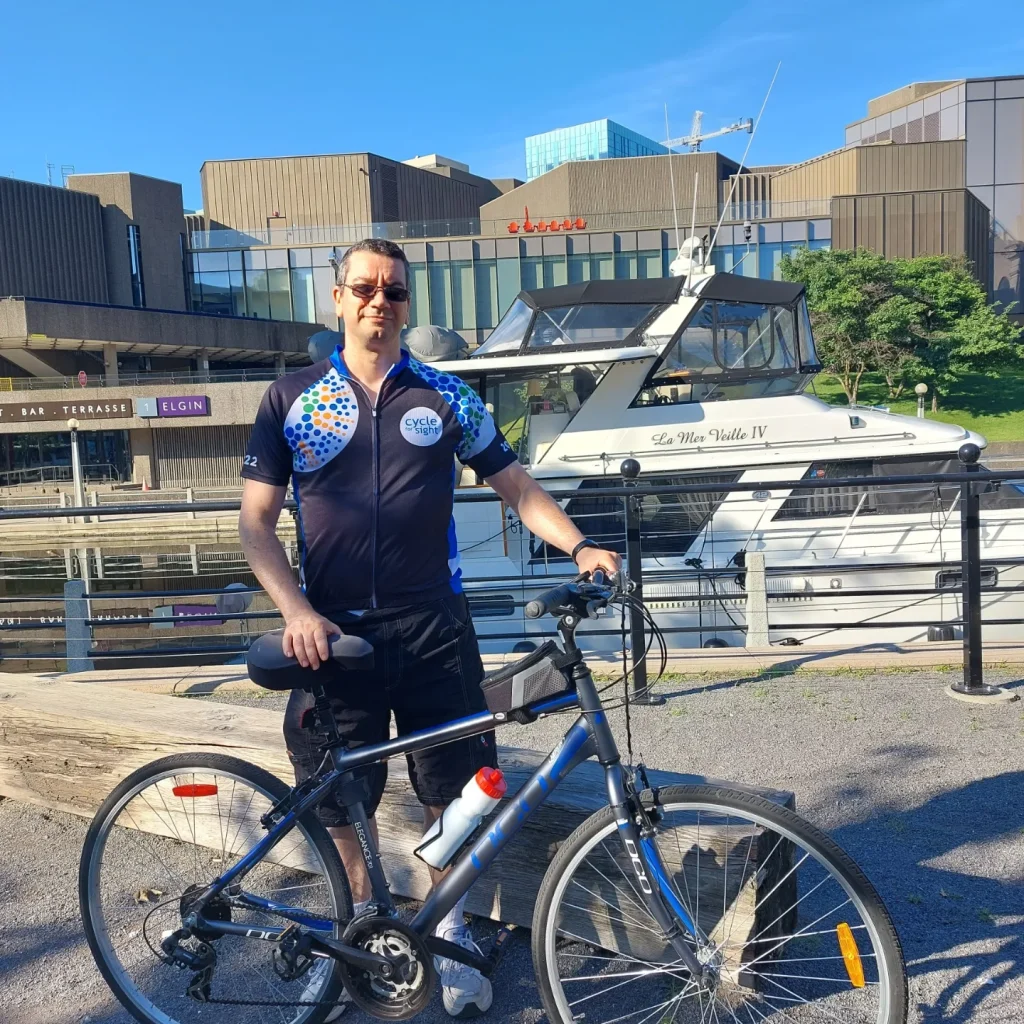 This year, Cycle for Sight marks 15 years of fundraising towards ground-breaking vision research! We connected with long-time Cycle for Sight volunteer, Demitrios Kotsambouyoukas to learn what inspired him to join the event each year…
What inspires you to participate in Cycle for Sight?
I was inspired to participate in Cycle for Sight because of a family member who was diagnosed with retinitis pigmentosa at a young age. It is someone very close to my heart that I have watched grow up into a smart, fun-loving, and very talented young person. A short period later, I learned about this event. I joined Cycle for Sight in June 2014, and I am amazed and excited that this year will be my 10th year taking part in this event.
What do you enjoy most about the event?
Every year, I look forward to Cycle for Sight because it allows me to take a break from my busy schedule to do things that I love; go on a road trip, cycling and fitness, meeting new people, and hearing others stories.
What are you looking forward to in 2023?
The atmosphere at every year's Cycle for Sight event is always fun and supportive. It gives me a sense of accomplishment and makes me look forward to the next one!
Do you have tips for cyclists looking to join Cycle for Sight for the first time?
If you like to move and shake the pandemic blues, join this event! If choosing to join by cycling, I would recommend a little pre-event workout to be more ready to complete your kilometers goals. The important thing to remember is that you can compete at your own pace.
In regards to fundraising, I have found it best to simply spread the word through friends, family, and co-workers. Joining Cycle for Sight and fundraising towards vision research, gives hope that with research, new sight-saving treatments are not far away. The important thing to remember is to have fun; as we know, you cannot spell fundraising without the word FUN!
How can someone support you in your upcoming cycle?
To make a donation towards my Cycle for Sight ride, you can find me under my profile: Demitrios Kotsambouyoukas at cycleforsight.ca.
Participating in Cycle for Sight this June is easier than ever! Cycle, walk, dance and just get moving with us in your favourite way, anywhere and anytime in support of vision research! For details on in-person group locations, how to participate virtually, and to register, visit Cycleforsight.ca.
---

Join the Fight!
Learn how your support is helping to bring a future without blindness into focus! Be the first to learn about the latest breakthroughs in vision research and events in your community by subscribing to our e-newsletter that lands in inboxes the beginning of each month.