Jun 5, 2020
Remembering Fighting Blindness Canada's founders Jay and Malca Marin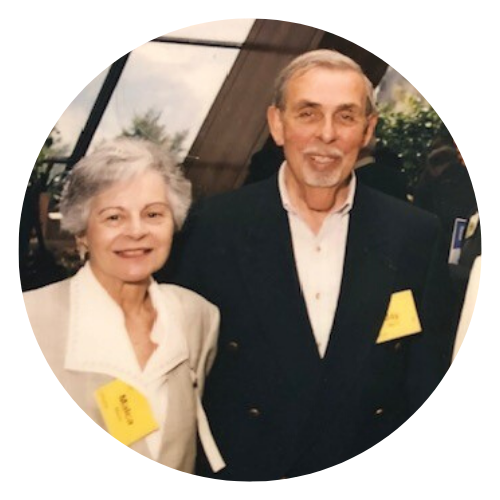 The late Jay and Malca Marin began leading the fight against blindness over 50 years ago.
Jay and Malca were a devoted couple that had four children: Joe, Lorne, and twins Reva and Bayla. Jay, business owner of Reliable Silk (inherited from his father) and Northcott Silk (partnered with his brother-in-law), was a skilled business man driven by the importance of care and community.
When their second son Lorne was 16 he was diagnosed with retinitis pigmentosa (RP) a symptom of Usher syndrome (an inherited disease that affects both sight and hearing), the couple became determined to bring sight-saving research to Canada.
In particular, after reading an article in the New York Times describing a new organization in Baltimore (Foundation Fighting Blindness U.S) and their work on vision research, Jay immediately contacted the founder Ben Berman and travelled to Baltimore to meet with him. Ben quickly became Jay and Malca's good friend and inspired them to help advance vision research in Canada.
The couple left their visit with Ben on a mission to establish a vision research centered charity in Canada which they called the RP Foundation (now Fighting Blindness Canada). Their first application to making the foundation a registered charity was declined. Jay undiscouraged, reached out to Dr. McCulloch, who had diagnosed Lorne's RP, and invited him to meet with Ben. A dinner date at the Marin residence resulted in Dr. McCulloch agreeing to be the director of the foundation's Scientific Advisory Board which significantly led to the foundation gaining charitable status.
Jay and Malca set up the organization's office out of their home. Their mission was close at hand and they did not want to delay breaking ground on sight-saving research. While their son Lorne expressed worry that the foundation would take up the best years of their lives, Jay assured his son that, "it would be the best way to take up our life."
Eventually, Dr. McCulloch helped find the couple office space at the University of Toronto and together they decided to hold a public meeting. Cautioned not to get their hopes up, Jay and Malca did not know what to anticipate of the turnout. Malca had called two radio stations and word of the RP Foundation's mission to fund sight-saving research, treatments, and ultimately cures spread quickly. The public meeting attracted over 150 people instead of the expected 10-15 and Jay and Malca's efforts and faith in community grew stronger then ever.
The couple went on to host regular research networking events out of their home. For many years the RP Foundation ran with only the support of volunteers consisting of community members and researchers from the RP Foundation's Scientific Advisory Board – many of the costs covered by the couple themselves.
A pivotal moment for the RP Foundation took place in 1979 at Jacksons Point, Lake Simcoe, Ontario. Today, this event is regarded as the spark of the foundation's research movement. Jay and Malca rented The Briars Hotel and invited every science researcher they could find. Approximately 150 scientists attended with Dr. McCulloch and Ben creating the event's itinerary. This event led to an increased intensity in vision research being done by scientists across North America. Some field experts may describe it as "the beginning of everything."
Today, we remember and honour the hard work and dedication of a humble and devoted couple. Jay and Malca Marin leave behind four children, 5 grandchildren, 2 great-grandchildren, and a life-long gift of hope for those living with blinding eye diseases.
Their son Lorne shares, "The true beginning was on the evening of my diagnosis. We were all in shock and I was now officially legally blind. My parents couldn't sit back and do nothing. My parents had to build what is now Fighting Blindness Canada from the ground up. I'm very proud of the work they did, and the commitment they made over the years to me and to all individuals dealing with vision loss."
Jay and Malca Marin could not be stopped in their mission to find a cure. 46 years later, FBC continues to be inspired by the couples effort, passion, and fight to cure blindness. Join the fight today!
Join the Fight!
Learn how your support is helping to bring a future without blindness into focus! Be the first to learn about the latest breakthroughs in vision research and events in your community by subscribing to our e-newsletter that lands in inboxes the beginning of each month.