Overview
Diabetic retinopathy (DR) is the most common form of vison loss associated with diabetes. Affecting approximately 500,000 Canadians, it is the leading cause of blindness among working-age adults. When left untreated the condition may advance into diabetic macular edema (DME), where damaged blood vessels leak into the macula, the central area of the retina, resulting in blurred vision and dark or distorted images. If you have diabetes it is important to have regular appointments with your eye specialist to undergo specialized screenings, which will test to see if your eyes are showing signs of retinopathy. Since the early stages of the disease do not always carry symptoms, these screenings are essential; there is no reliable cure for vision loss resulting from diabetic retinopathy, but the disease can be managed—and vision loss prevented—if it is diagnosed early enough, before damage to the retina occurs.
In the "non-proliferative" form of diabetic retinopathy, blood sugar levels from diabetes damage the blood vessels that nourish the retina, the light-sensitive tissue at the back of the eye. This damage will often lead to dot-like hemorrhages throughout the retina. These often don't carry any symptoms, however, and with adequate control of diabetes the damage in the eye can be reversed.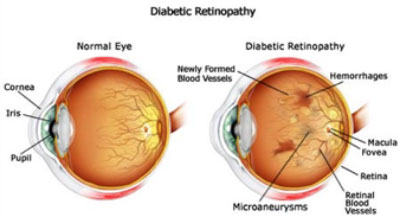 Advancement of the disease can lead to fluid leaking into the retina, resulting in swelling. At this stage, which is typically diabetic macular edema, symptoms such as blurring may begin to manifest; alternatively, the patient's vision may be normal, which is why regular eye tests are so important.
When the disease advances, new blood vessels grow to compensate for the damaged old ones, but they are weaker and more susceptible to breaking and rupturing. This is the "proliferative" stage of the disease. This can lead to bleeding into the vitreous cavity, which may present as floaters or spots in one's vision.
The chances of developing diabetic retinopathy increase the longer you have diabetes. The disease can also increase your chances of developing neovascular glaucoma and cataracts.
Content on this page was written by Dr. Chad Andrews and Dr. Mary Sunderland, and was edited and approved by Dr. Deepa Yoganathan. The information was most recently updated on August 23, 2018.
Tell Us What it's Like to Live With Diabetic Retinopathy
Fighting Blindness Canada is undertaking a study about how diabetic retinopathy affects peoples' daily lives. Share your experience and support our efforts to give Canadians access to the latest treatments for diabetic retinopathy filling out the survey below.
Do you need assistance navigating our educational resources? Contact our Health Information Officer by calling 1-888-626-2995 or emailing healthinfo@fightingblindness.ca.
Join the Fight!
Learn how your support is helping to bring a future without blindness into focus! Be the first to learn about the latest breakthroughs in vision research and events in your community by subscribing to our e-newsletter that lands in inboxes the beginning of each month.