Retinitis Pigmentosa
Overview
Retinitis pigmentosa (RP) describes a group of genetic disorders that damage light-sensitive cells in the retina, leading to gradual vision loss over time as the cells die off. While the condition is classified as a "rare disease," it is one of the most common inherited diseases of the retina, affecting between 1 in 3500 to 1 in 4000 Canadians.[1] RP is often referred to as an inherited retinal disease, meaning that it is passed along genetic lines and inherited from one's parents. Though it is usually diagnosed during childhood or adolescence, a minority of patients report symptoms later in life.
Specialized cells called photoreceptors are responsible for absorbing light and translating it into signals that are interpreted by the brain—it is these essential cells that gradually die off as a result of RP. The cells come in two varieties: rod cells and cone cells. Rod photoreceptors are responsible for peripheral and night vision, while cone photoreceptors are responsible for central, high-acuity vision as well as detail and colour. Since it is the rod cells that are first damaged by RP, peripheral and night vision are affected during the early stages of the disease, followed by a narrowing of the visual field, often referred to as a progressive form of "tunnel vision." The death of rod cells eventually affects the cone cells as well, leading to the loss of central vision and often resulting, during the later stages of the disease, in near or total blindness. The length of this process varies from individual to individual.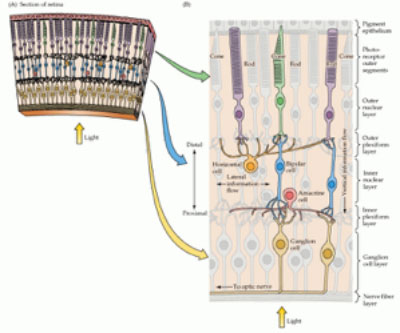 RP was originally considered a single disease, but after decades of research—including research funded by FBC—we now know that there are several forms of RP, and that these forms involve mutations in any one of more than 64 different genes. The gene or genes affected determine the disease type and symptoms.
There are several different ways that RP can be inherited, which is usually described as the "inheritance pattern." The different RP inheritance patterns include: autosomal dominant, autosomal recessive, and x-linked recessive. A genetic counsellor can talk with you about your family history and determine which of these patterns is associated with your vision loss. With this information, the genetic counsellor may be able to tell you more about how your condition will progress, and give you and your family information about the risks of vision loss for other family members. To learn more about genetic testing for RP, please consult our Genetic Testing Primer.
Typically, each person with RP only has damage in one pair of genes. Scientists have now identified more than 64 genes that can have mutations that cause RP. It is likely that mutations in more than 100 different genes will eventually be identified. Because so many RP-causing gene mutations are still unknown, there is about a 50:50 chance that genetic testing will provide a definitive result. Given your family history and the inheritance pattern of your RP, your genetic counsellor will be able to advise you about the likelihood that a genetic test will provide a definitive result.
Different genetic mutations can damage the retina or impair its function in different ways; for example, some mutations affect how the retina processes nutrients, while others damage the photoreceptors. It's important to identify the specific gene and mutation, because many treatments being developed for RP will be for particular genetic types.
Below is a basic summary of retinitis pigmentosa:
tELL uS wHAT IT'S lIKE TO lIVE wITH rp
Fill out the survey below to share your experience.
Do you have questions about your eye health or information shared on this page? Our Health Information Line is here to support you.
Content last reviewed: August, 2018
Join the Fight!
Learn how your support is helping to bring a future without blindness into focus! Be the first to learn about the latest breakthroughs in vision research and events in your community by subscribing to our e-newsletter that lands in inboxes the beginning of each month.