Jan 9, 2023
Advances in Stem Cell Therapy made by FBC-Funded Researcher
Cells Grown in Lab can Reach Out and Connect to Other Retina Cells
Fighting Blindness Canada (FBC) funded scientist Dr. David Gamm (University of Wisconsin) has successfully shown that photoreceptor cells grown from stem cells can reach out and connect with their neighboring cells. Published in the journal PNAS, this study brings us one step closer to testing a stem cell therapy in humans in a clinical trial.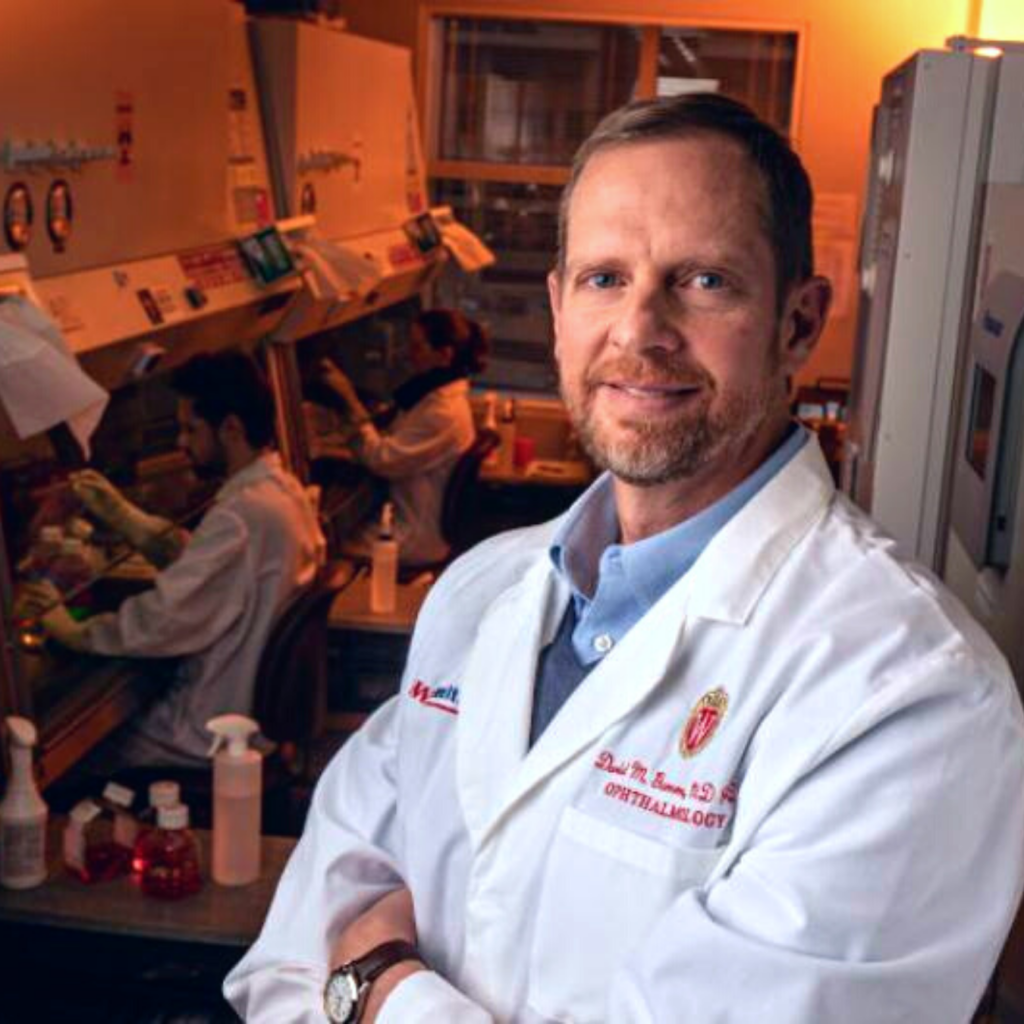 Photoreceptor cells are found in the eye's retina and are responsible for converting light into signals that are sent to the brain. The death of photoreceptor cells leads to vision loss in many retinal diseases, such as inherited retinal diseases (e.g. retinitis pigmentosa or Usher syndrome) or age-related macular degeneration. Different types of treatments are being studied that may reduce vision loss or even restore vision due to loss of these cells.
Gene therapies are one form that may prevent the death of photoreceptor cells and therefore slow down vision loss. However, if retinal degeneration and vision loss is advanced, gene therapy treatments won't work. This is when stem cell therapy comes in; where new cells such as photoreceptors cells are grown in a lab and then transplanted back into the eye replacing cells that have died or been damaged. Stem cell therapy offers hope to restore vision that is lost, but it is a very complicated procedure and so far we have not seen a successful therapy that replaces photoreceptor cells.
FBC-funded researcher, Dr. Gamm's recent findings
Funded in part by a FBC grant, Dr. David Gamm has been working hard to develop a stem cell therapy for advanced retinal degeneration. His team has previously demonstrated that they can grow groups of cells called organoids, that resemble the retina, including photoreceptor cells.
In 2022, the team showed that the lab-grown photoreceptors do respond to light and extend out "cords" or axons towards other retinal cells in the organoid. But what would happen if the organoid cells were separated and put into the eye? Would they be able to extend their axons and form new connections with other cells in the retina? This would be a key step to restoring vision because after a photoreceptor senses light, it has to transmit the signal to other retinal cells and finally to the brain where images are formed.
"The last piece of the puzzle was to see if these cords had the ability to plug into, or shake hands with, other retinal cell types in order to communicate," said Dr. Gamm.
To test this, the research team broke apart the organoids into individual cells and gave them time to grow their axons and see if they made connections with other cells. They saw that many of the cells, including photoreceptors did make new connections (called synaptic connections).
"We've been quilting this story together in the lab, one piece at a time, to build confidence that we're headed in the right direction," describes Dr. Gamm, who has co-founded Opsis-Therapeutics which is adapting this technology to treat vision loss, "…it's all leading, ultimately, to human clinical trials, which are the clear next step."
We are excited to follow Dr. Gamm's and his team's research progress. To learn more about Dr. Gamm's project, watch their presentation from our View Point Research in Review webinar. Dr. Gamm's presentation begins at approximately the 18 minute mark.
If you would like to learn more about stem cell therapy, check out our research page Stem Cells Therapy to Treat Vision Loss.
This work was funded in part by a grant through Fighting Blindness Canada's Restore Vision 20/20 program, thanks to generous contributions from Donna Green, her mother the late Goldie Feldman, and an anonymous donor.
---

Join the Fight!
Learn how your support is helping to bring a future without blindness into focus! Be the first to learn about the latest breakthroughs in vision research and events in your community by subscribing to our e-newsletter that lands in inboxes the beginning of each month.