May 12, 2020
ARE YOU UP FOR THE CHALLENGE?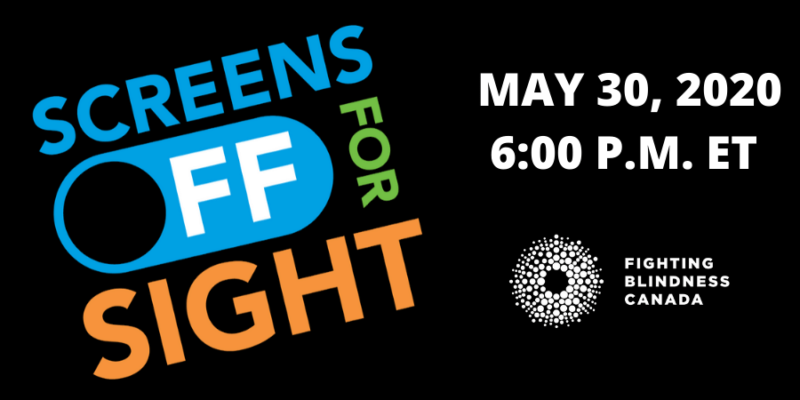 It's difficult to imagine life without your digital screens, especially at a time when we continue to practice physical distancing to stop the spread of COVID-19. However, with an estimated 1.5 million Canadians living with a seeing disability, many navigate technology without the ability to see what's on their phones, tablets, laptops or TVs.
Could you manage 24 hours without your screens?
According to Statistics Canada in a survey completed in early April, Canadians have dramatically increased their time on screens because of the COVID-19 pandemic:
68% more time on internet
63% more time watching TV
22% more time playing video games
Screens Off for Sight means giving your eyes a break from screens. It can be a helpful rest for your eyes too.
According to the Canadian Ophthalmological Society, on average, we blink 12 times per minute, but when we're on a computer, we only blink 5 times per minute. As many as 50 to 90% of adults who regularly use phones and laptops experience screen-related ocular symptoms. These symptoms include red, watery or dry eyes, eye fatigue, difficulty focusing and headaches.
Fighting Blindness Canada (FBC) challenges you to turn off your screens for 24 hours on May 30 at 6pm with our Screens Off for Sight virtual challenge. By participating, you will help raise awareness for sight-saving research and give your eyes a much-needed rest!
how can you join THE CHALLENGE?
Sign up with your email and join the challenge, then share about the challenge on your social media channels with your network, asking family and friends to join you as well.
JOIN THE SCREENS OFF FOR SIGHT CHALLENGE
Challenge others to join too, and on May 30 at 6pm "go dark" for 24 hours. That means shutting down all your screens, including; laptops, computers, televisions, cellphones, videogames, and more! Can you make it to 24 hours?
Why join the challenge?
Gain perspective by experiencing the reality of Canadians living with vision loss who can't see their screens each day.
Raise awareness and funds for vision research and the impact new treatments and cures can have on the lives of over 1.5 million Canadians living with blinding eye disease.
Tools to help you join:
We've developed a Screens Off for Sight Social Media Kit where you can find a sample social media post, profile image filter, and Instagram story photos to help prepare for the challenge and spread the word.
ACCESS SOCIAL MEDIA KIT
DOWNLOAD PHOTOS
Don't forget to tell your family and friends – encouraging them to donate and join you in turning off all screens on May 30 at 6 p.m. to May 31 at 6 p.m.
DONATE TO SCREENS OFF FOR SIGHT CHALLENGE
Tag us on social!
We can't wait to see your #ScreensOffForSight posts leading up to May 30! On May 31 after the 6pm end time, share your screens-off experience with us on social media. Be sure to tag @FightingBlindnessCanada for the chance to be featured!
Thank you for your support!
Join the Fight!
Learn how your support is helping to bring a future without blindness into focus! Be the first to learn about the latest breakthroughs in vision research and events in your community by subscribing to our e-newsletter that lands in inboxes the beginning of each month.