May 1, 2023
Matthew's Story and The Value of Planned Giving
Matthew is at least the fourth generation in his family to be affected by retinitis pigmentosa (RP), a rare genetic eye disease that over time makes cells in the retina break down, leading to progressive vision loss and often blindness. He and his family have been long-standing Fighting Blindness Canada (FBC) supporters, and now, Matthew and his wife Stephanie are continuing their support by remembering FBC with gifts in their wills.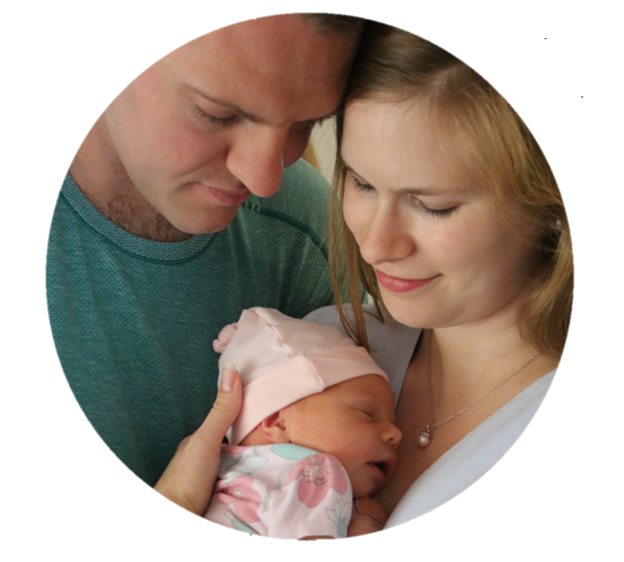 Matthew and Stephanie, both Torontonians in their early thirties, met at Western University's Ivey Business School and have since been together for 11 years. In August 2022, they welcomed their first child, Emily. Stephanie works in the financial sector, and Matthew in the environmental field.
Matthew is profoundly grateful for the hope and support FBC has given to his family over the many years. He has found the educational resources very insightful and regards FBC as "exceptionally good at referring those needing support to the right source."
Matthew is also involved in an ongoing research study led by Dr. Eric Pierce in finding better treatments for RP. The Jones' know that leaving FBC in their wills will help to achieve this goal for future generations.
Both Matthew and Stephanie, until recently, had not prepared wills before. With their newfound decision to remember FBC in their wills, they chose to leave their future gifts to FBC as 'undesignated' (to be used where the need is greatest). Given their family's long history with FBC, remembering the organization in their wills was for them a natural thing to do.
"Everyone should have a will," says Matthew. "It's easy to put off when you're young but for us, we wanted to ensure our daughter was protected. A will makes things easier for those you leave behind.
Learn more about planned giving online or contact our team at legacy@fightingblindness.ca.
---

Join the Fight!
Learn how your support is helping to bring a future without blindness into focus! Be the first to learn about the latest breakthroughs in vision research and events in your community by subscribing to our e-newsletter that lands in inboxes the beginning of each month.