Mar 10, 2020
Vision Quest Ottawa a success!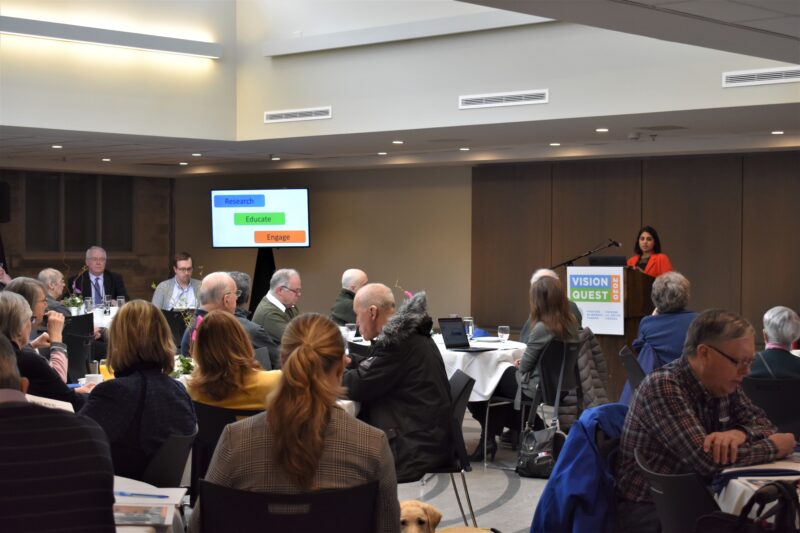 On Tuesday, February 11 we gathered in Ottawa for our first Vision Quest of 2020! At this afternoon "tea & talk", 60 people living with vision loss, their families, and allied professionals attended to learn more about age-related vision loss.
We had two fantastic speakers who shared their insights on emerging therapies for age-related vision loss.
Dr. Bernard Hurley spoke about the leading cause of blindness in Canada;, age-related macular degeneration (AMD). Dr. Hurley explained the , the two major forms of AMD, (wet and dry), and talked about how these conditions have traditionally been treated. He outlined some of the most common drugs used to treat AMD and described how these injections treatments have drastically reduced vision loss from wet AMD. Finally, Dr. Hurley discussed future treatments that will be available soon in Canada and explained how these treatments will benefit patients. You can view Dr. Hurley's entire talk below.
View Dr. Hurley's presentation.
Dr. Catherine Tsilfidis joined us to share information on a fascinating form of gene therapy that she has been researching. Her research centres around understanding cell death in the eye and how this leads to vision loss. Dr. Tsilfidis explained how her team is testing if gene therapy can be used to stop cells in the eye from dying and the implications it could have for people living with eye diseases like glaucoma and retinitis pigmentosa. You can view Dr. Tsilfidis's entire talk below.
View Dr. Tsilfidis' presentation.
Thank you to all who joined us at this great event. Photos of the event can be accessed on our Facebook album page.
Please visit our Vision Quest event page to learn about upcoming 2020 events across Canada.
Join the Fight!
Learn how your support is helping to bring a future without blindness into focus! Be the first to learn about the latest breakthroughs in vision research and events in your community by subscribing to our e-newsletter that lands in inboxes the beginning of each month.