May 26, 2022
Longtime FBC Volunteer Carol Lithwick Honoured As Vision CHampion
A dedicated Fighting Blindness Canada (FBC) volunteer for over two decades, Carol Lithwick has been selected as the winner of the 2022 Vision Champion Award. The recognition, handed out by the Canadian Association of Optometrists (CAO), honours an individual or organization outside of the eye health provider community for their commitment to vision care for all Canadians.
Carol Lithwick's connection to vision loss began in the 2000s after her eldest son Stuart was diagnosed with retinitis pigmentosa (RP). That's when she first discovered FBC, then known as The Foundation Fighting Blindness. From there, she and her husband Howard became regular donors, never missing an opportunity to show their support and in 2004 Carol joined FBC's Board of Directors, serving until 2009.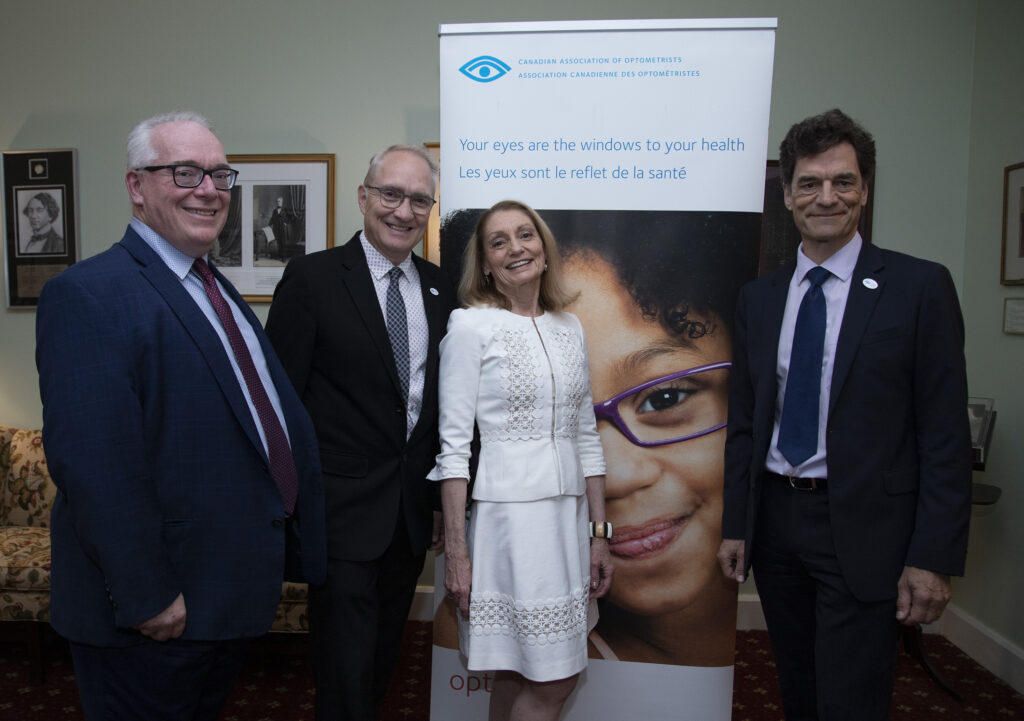 Carol has been an integral part of the success of one of FBC's most beloved fundraising events, Cycle for Sight, in her home city of Ottawa. When the event was brought to the nation's capital in 2010, Carol joined the volunteer committee and began recruiting riders, promoting Cycle for Sight to various communities and securing donations for prizes. Her energy helped to pump up cyclists at the beginning of the ride and she was always at the finish line, ready to offer a smile or a hug.
When Cycle for Sight pivoted to a virtual event in 2020, Carol rode an indoor bike, both taught and took aerobics classes and power walked six days per week for nearly seven weeks leading up to the event as part of her fundraising efforts. As Carol said, all participants were "really just one family with a unified purpose – supporting outstanding research in the hopes of finding treatments and possible cures for those Canadians who are losing their sight."
However, Carol's dedication to sight-saving treatments and cures goes well beyond our organization. Over the past few years, she has become an activist and change-maker, working collaboratively with the CAO to advance vision issues as part of the association's advocacy efforts. While she has rallied politicians from all levels of government, she has been focused on Members of Parliament (MPs), holding multiple meetings with MPs during May Vision Health Month – all of which is leading to greater awareness and understanding of vision loss and prioritizing the impact it has on Canadians from coast to coast.
"Carol's passion and storytelling when speaking to political leaders has transformed perceptions of our community," says FBC's President and CEO Doug Earle. "Fighting Blindness Canada would not be where we are today without her support."
Carol adds her 2022 Vision Champion Award to her collection of previous accolades, including an Ontario Volunteer Service Award she took home in 2019. Along with Howard, Stuart and younger son Jonathan, and her daughter-in-law Elana and three granddaughters she continues to give generously to FBC and plans to set aside funds for the organization in her will.
Of her dedication to FBC, Carol says "I do it to help find innovative treatments and eventually a cure." We thank Carol for her endless enthusiasm for the cause!
The Canadian Association of Optometrists is holding its 37th Biennial Congress in St. John's, Newfoundland this summer, from July 6-9. Following the conference, Carol's favourite activity – Cycle for Sight – Newfoundland edition – will be held in St. John's on July 10, in person for the first time in three years. A CAO team will be riding in support of FBC. Learn more about Cycle for Sight 2022 Virtual and In-Person and register today for Cycle for Sight!

Learn more about Cycle for Sight 2022 Virtual and In-Person and register today for Cycle for Sight!
---

Join the Fight!
Learn how your support is helping to bring a future without blindness into focus! Be the first to learn about the latest breakthroughs in vision research and events in your community by subscribing to our e-newsletter that lands in inboxes the beginning of each month.