May 2, 2023
Clinical Trial Advances for IRD, AMD and glaucoma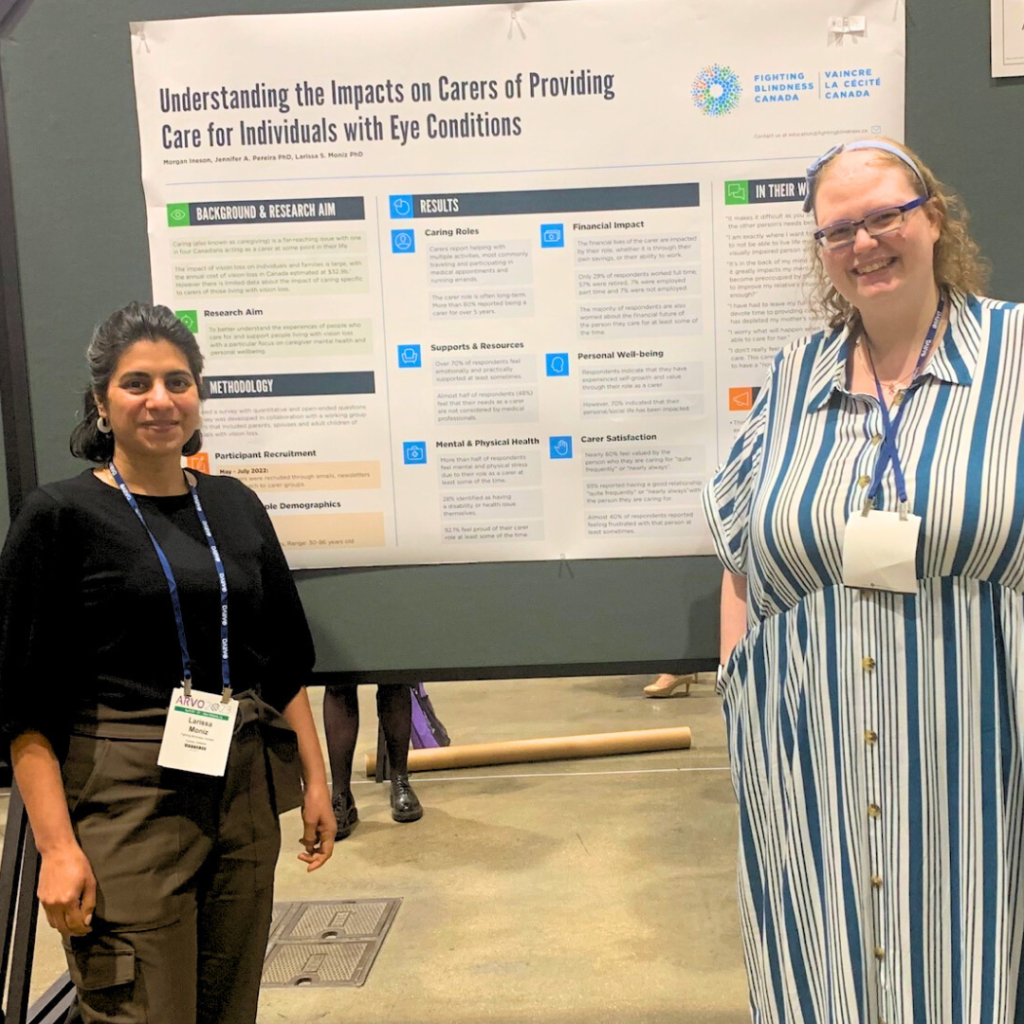 From April 23-27, Fighting Blindness Canada attended one of the largest vision research conferences in the world: the Association for Research in Vision and Ophthalmology (ARVO). It was illuminating to learn about new advances taking place and the challenges that researchers are tackling towards developing new sight-saving treatments. Keep reading to learn more about potential therapies working their way through clinical trials for inherited retinal diseases, age-related macular degeneration, and glaucoma.
Inherited retinal diseases
Dr. David Boyer (Nanoscope Therapeutics) presented their results from Phase 2b RESTORE trial for treatment of retinitis pigmentosa with the optogenetic therapy MCO-010. This therapy is for individuals who have lost most of their light-sensing photoreceptor cells. The therapy delivers a light-sensing protein called an opsin to other surviving retinal cells that normally can't sense light. The new opsin protein allows these cells to sense and send light signals to create some vision.
In the trial, 18 patients were injected with MCO-010. All the treated patients showed significant improvements in key tests including best corrected visual acuity, and two different mobility and luminance tests, compared to individuals who didn't receive treatment. There were no serious of severe adverse effects from the treatment and it was well tolerated by patients. Nanoscope are looking to engage with the FDA this year to move the treatment forward to later stage trials.
Nanoscope is also running a clinical trial to test MCO-010 in patients with Stargardt disease. Because this treatment is gene-independent, if these trials are successful, it is hoped that this treatment could be used by individuals with vision loss caused by various inherited retinal diseases or gene mutations.
Sparing Vision is developing a gene-independent treatment for individuals affected by rod-cone dystrophies. Using a gene therapy approach to deliver their treatment, the hope is that SPVN06 will reduce oxidative stress in the retina and help to preserve the retina from further degeneration. Preliminary studies in an animal model showed significant protection of visual acuity and cone density. Sparing Vision is now enrolling their patients in their first in-human study called PRODYGY.
Age-related macular degeneration (AMD)
Two companies discussed new gene therapy approaches to treating wet AMD which should reduce or eliminate the need for regular anti-VEGF injections. In these treatments a single injection delivers a gene to the retina that acts as a small factory, continually providing anti-VEGF treatment.
Dr. Mark Barakat (RegenexBio) discussed their Phase 1/2 study RGX-314 gene therapy to replace long-term injections. In these early trials, this therapy has been shown to be safe, and after a single injection, patients are seeing a stable or improved visual acuity. The next stages in the trial are now enrolling patients in the U.S. and Canada and they will also be conducting a trial for patients with diabetic retinopathy. Dr. Kali Stasi (Adverum Biotechnologies) presented on a gene therapy product for wet AMD, Ixo-vec. The pre-clinical data showed robust, durable anti-VEGF levels with minimal inflammation that is well tolerated in both eyes. They are moving forward with the LUNA phase 2 trial which is currently recruiting.
Glaucoma
Adriana Di Polo (University of Montreal) discussed work her team has done in the area of optic nerve regeneration in glaucoma. Glaucoma is the leading cause of irreversible blindness. In glaucoma vision loss occurs when the optic nerve, which connects the eye and the brain, is damaged. Dr. Di Polo's group has shown that in animal models of glaucoma, insulin can increase optic nerve connections and signals. Insulin is an essential hormone in the body that helps control blood sugar levels. It also controls growth and survival of many other cell types. Based on this and other work, Phase 1/2 clinical trials are now testing if insulin eye drops could be a potential way to protect and potentially even restore vision in glaucoma.
---

Join the Fight!
Learn how your support is helping to bring a future without blindness into focus! Be the first to learn about the latest breakthroughs in vision research and events in your community by subscribing to our e-newsletter that lands in inboxes the beginning of each month.