Apr 1, 2022
The White Cane Series: Ben Akuoko's Story
Ben Akuoko is a Young Leaders mentor, Fighting Blindness Canada Ambassador, and University graduate currently completing a master's degree in social work. Although dedicated to helping his community and advancing his education and career, Ben remembers a very different version of himself growing up following an early eye disease diagnosis.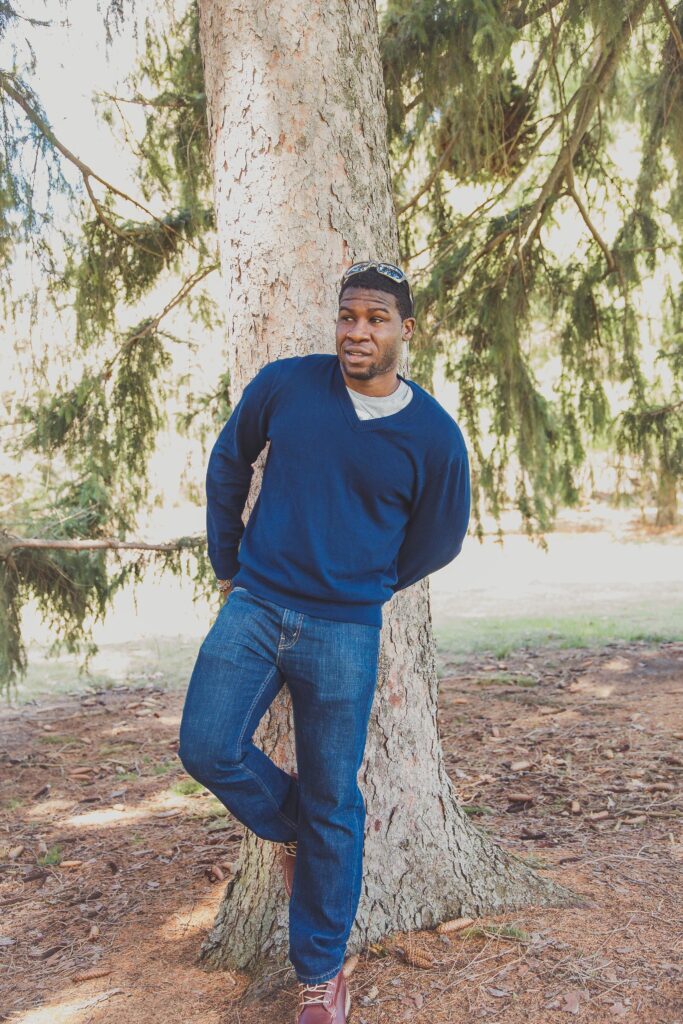 As a young boy, Ben's family thought he was clumsier than others. Despite being able to do certain activities and being able to see, neither Ben nor his family realized he was losing his vision. As changes became more noticeable, Ben was taken to an eye doctor who confirmed he was experiencing sight loss due to an inherited retinal disease called retinitis pigmentosa (RP).
The news of Ben's diagnosis was difficult for his family to accept and difficult for Ben to fully understand.
"Even though someone shared I had sight loss, I almost didn't believe it because I was doing so many things. I was still riding bikes and playing with friends."
During the early years of Ben's diagnosis, he recalls throwing a ball in the air and catching it without fail. Other times, Ben recalls pretending to read small print to keep up with his classmates in school. Although Ben had found ways to compensate for what he couldn't see, it became clear that Ben needed support.
For some experiencing vision loss, using a white cane can be liberating; to a kid, a white cane can highlight differences during what is already an awkward stage. For Ben, it was as though his future was pre-determined and that his life was just going to continue to get more difficult.
Ben recalls the difficulty in cultural understanding surrounding vision loss as well. As a son of immigrant parents from Ghana, Ben witnessed family members asking God for help because they were unsure how to find support for vision loss, which was not openly discussed in their community.
"Because I [could] play sports, my parents assumed I didn't have sight loss. So, I felt I needed to hide it. I didn't know what my future would be and didn't see my life going that far."
Being a part of an integrated school system allowed Ben to experience school life without blindness defining him. This helped build what Ben recalls as, a sense of toughness in having to adjust to environments not catered to accessibility. This also helped normalize his vision loss. Ben was never bullied, built strong friendships, felt a sense of respect among his peers, and didn't want to disrupt his positive experiences.
Ben soon began losing interest in his education and teachers noticed. He was continuously encouraged to take spares every semester, assuming he was unable to fulfill education requirements like other students.
"As a first-generation Black Canadian male and with everything going on, it felt like education wasn't a focus. Peers would say 'what kind of Black guy are you – you're being a nerd,' and I wanted to overcompensate to fit in."
Ben turned his attention to sports and other avenues to find fulfillment, but sports didn't resonate as much as he hoped. Soon Ben was introduced to weightlifting and it became the love of his life.
Through weightlifting, Ben found a sense of confidence in physical strength, which also helped relieve stress. This newly found belief and pride in himself translated into other areas, including education and long-term goals.
After high school, Ben attended Sheridan College and received a diploma for social services. But he didn't stop there. Ben looked to Ryerson University's continuing education program and worked two jobs to support himself. Later, he was accepted to Laurentian University. Ben moved out of his family home for four years to complete his program and is now completing his Masters of Social Work at the University of Waterloo.
Now at the age of 33, and as an educated professional and homeowner, Ben looks back and almost can't believe what he has achieved. In addition to educational goals and new career prospects he once believed impossible, Ben also creates music, runs, and continues to be a positive voice in his community. He is also proud of his family and how they have grown together through his diagnosis.
Ben continues to look for more mountains to climb. His mindset on his vision loss now is that he hopes for a medical advancement that will sustain or slightly improve his vision but will continue to live his life in the moment. Ben believes his experiences have made him a better person and wants to help others cherish life, something he considers "a win-win either way."
---
The White Cane Series features community stories from Canadians living with vision loss. If you are living with vision loss and would like to be featured, e-mail comms@fightingblindness.ca.
Check out past White Cane stories.
Laura's Story | Sarah's Story | Shari's Story part 1 and part II
Join the Fight!
Learn how your support is helping to bring a future without blindness into focus! Be the first to learn about the latest breakthroughs in vision research and events in your community by subscribing to our e-newsletter that lands in inboxes the beginning of each month.