Jul 6, 2020
Hill Family Donates $1 Million to Help Advance Vision Research
It started with hello.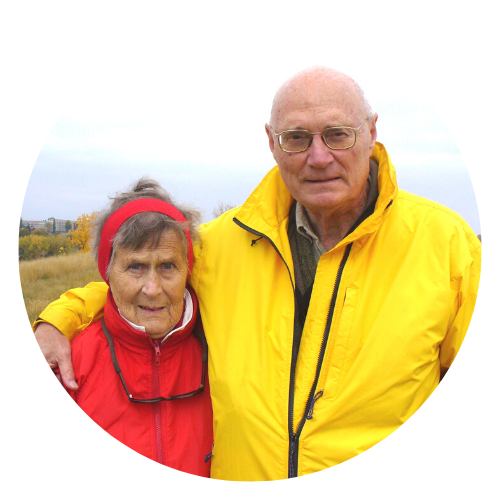 When Gilbert and Ardeth made the decision to attend Queen's University for their Bachelor's Degrees in the late 1940s, they did not anticipate the ripple in their life this decision would make. Gilbert, Ottawa born, and Ardeth from Hawarden, Saskatchewan, met on campus and quickly became inseparable. They shared a love for sports, traveling, and adventure, and went on to pursue advanced degrees at Queen's University, and McGill (Gilbert) and the University of Toronto (Ardeth), both developing a keen interest in the biochemical and genetic aspects of disease.
Gilbert and Ardeth's love for one another grew throughout the years. From hitting the ski trails together, to travelling the seven continents of the world, their love of life and one another became everlasting. Now in their late 80s, Gilbert and Ardeth have been married for over 60 years and have three incredibly supportive children; Janet, Andrew, and Margaret.
About 30 years ago, the couple were both caught by surprise when Ardeth began losing her vision.
"Blindness has a tremendous impact on family," explains Gilbert. "People don't understand what it's like until they experience it themselves."
At the early stages of vision loss, Ardeth's vision was being closely monitored at Toronto Western Hospital. Genetic tests were then done at Mount Sinai Hospital in Toronto resulting in Ardeth's diagnosis of retinitis pigmentosa (RP). Today Ardeth can only see shades of light and dark. Working over 50 years in the field of clinical biochemistry, Gilbert continues to be more determined than ever to help find a cure for his wife's eye disease.
"We have a lot to discover and we need to keep supporting Fighting Blindness Canada in finding a treatment and cure," says Gilbert.
The Hills wanted to make a difference in advancing sight-saving research. Today, we celebrate Gilbert and Ardeth's love story and their contribution of over $1 million towards vision research. Their significant gift will establish The J. Ardeth Hill – Fighting Blindness Canada Professorship in Ocular Genetics Research at the University of Toronto, and pave the way for a new Ocular Genetics Research Centre in Toronto. The centre will be the forefront of genetic eye disease testing and research, and is set to break ground over the next 5 years.
For Gilbert and Ardeth, their gift means sharing their love with the world and making an impact for the over 1.5 million Canadians living with vision loss.
---
From FBC and the vision loss community, we would like to thank Gilbert and Ardeth and their children for their significant gift and impactful contribution.
Join the Fight!
Learn how your support is helping to bring a future without blindness into focus! Be the first to learn about the latest breakthroughs in vision research and events in your community by subscribing to our e-newsletter that lands in inboxes the beginning of each month.