Mar 11, 2020
Leaving a legacy to fight blindness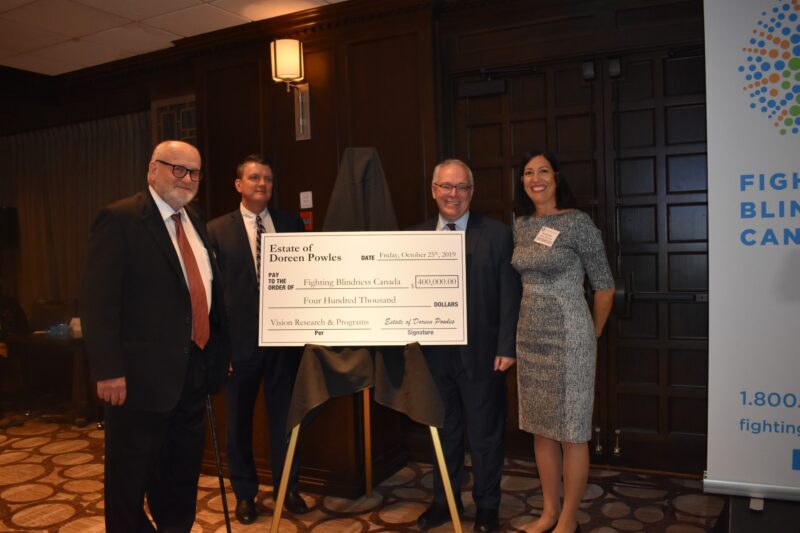 Robert Smyth, executor for estate of Doreen Powles presented a cheque to Fighting Blindness Canada (FBC) in the amount of $400,000 at a donor reception at the Calgary Petroleum Club on October 25, 2019. Adding to previous donations, this brings the total legacy donation of Doreen Powles' estate to FBC to $600,000. These generous gifts will be Doreen Powles' Legacy and will fund the most promising vision research to help end blindness.
Doreen Powles spent her life in Banff where she lived with congenital blindness until her passing on November 22, 2003. Her blindness was present at birth with reduced ability to detect light and colour, severe nearsightedness and involuntary movements of the eye. Doreen Marjorie Powles graduated in 1952 from the University of British Columbia with a Bachelor of Arts.
Her father, G.P. Powles, was a partner in Hornibrook and Powles Insurance in Banff and a Rotarian. Mr. Powles searched the world at great expense to find a treatment or cure that would restore his daughter's eyesight. Despite his efforts, vision science hadn't advanced enough at that time to help Doreen.
Robert Smyth, said, "Doreen was an only child. She left her entire estate to finance eye research, providing scholarships for aspiring researchers and helping people living with blindness. She would be excited by Fighting Blindness Canada's ground-breaking research to restore sight."
Doreen's legacy will support Canadian vision research including a research project funded during our most recent grant competition. We were honoured to announce on Feb. 14, 2020 in Banff, Alberta at the annual meeting of the Canadian Retina Society that the recipient of the Fighting Blindness Canada, Doreen Powles Award is Dr. Elizabeth M Simpson at the University of British Columbia for her project that is studying ways to use gene therapy to treat congenital blindness.
If you have questions about how you can leave a legacy gift, please contact Ann Morrison at AMorrison@fightingblindness.ca
Join the Fight!
Learn how your support is helping to bring a future without blindness into focus! Be the first to learn about the latest breakthroughs in vision research and events in your community by subscribing to our e-newsletter that lands in inboxes the beginning of each month.