Jul 5, 2021
L'OCCITANE give $120K to support Canadian vision loss community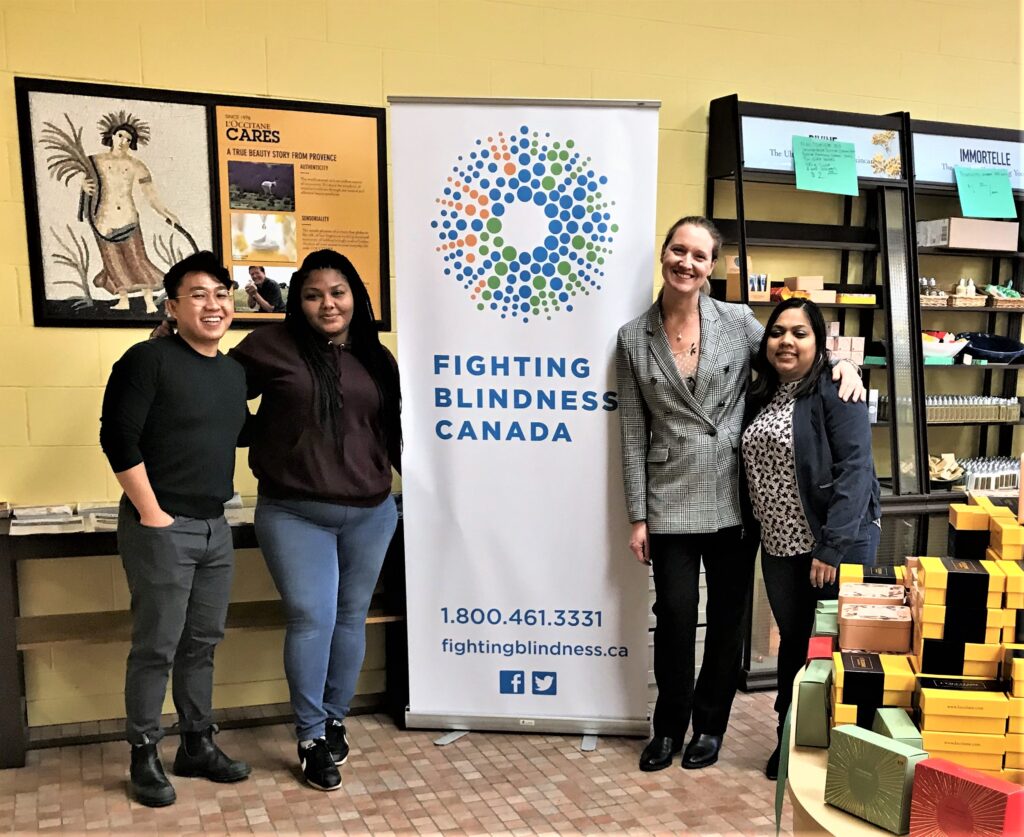 Fighting Blindness Canada (FBC) strives in building valuable relationships with its supporters and partners. Over a decade ago, FBC had the honour of being introduced to L'OCCITANE Canada and the L'OCCITANE Foundation, a foundation founded in 2006 to bring together and develop charity initiatives undertaken by the L'OCCITANE brand, and member of the International Agency for the Prevention of Blindness. The partnership began organically as introductions were made through a friendship of a FBC staff member. The L'OCCITANE Foundation expressed their ambitious goal to FBC of providing eye care to 10 million beneficiaries around the world by 2020 and 15 million by 2025 –as leaders in vision research, FBC was committed to working together to helping them reach these goals.
And, as L'OCCITANE Canada and the L'OCCITANE Foundation learned more about FBC's mission to advance vision research, they became very interested in becoming part of FBC's efforts; participating as an event sponsor for FBC's Cycle for Sight nation-wide fundraiser and growing the partnership year-after-year to where it is today, giving over $120,000 to our cause.
Moreover, these funds have helped FBC develop and uphold its Health Information services, comprised of a Health Information Line that serves individuals seeking information regarding their eye health, and an online Eye Health Resource Hub that shares valuable information on a variety of eye diseases. L'OCCITANE Canada and the L'OCCITANE Foundation have helped make this vital service possible with their significant gift of $30,000 annually since 2017.
"L'OCCITANE Canada and the L'OCCITANE Foundation's support has been a big part of FBC's sheer ability to do more to make a greater impact. Our rich partnership of almost a decade, has enabled us to develop and expand our Health Information services; helping serve, educate, and inform so many impacted by vision loss." Jaime Alexanderson, Senior Manager Development, Fighting Blindness Canada.
Thanks to L'OCCITANE Canada and the L'OCCITANE Foundation, FBC through its Health Information services has impacted the lives of thousands of Canadians living with vision loss.
"What inspired us to support FBC was the ambition to raise awareness and improve vision health and research on a large scale; via FBC's Health Information services. We were very happy and proud to support FBC's Health Information launch and become part of this work!" Sophie Genin, General Delegate, L'OCCITANE Foundation
As a centralized, accessible, gold-standard eye health tool for health professionals and patients, FBC's Health Information services provide educational and resource-based information to thousands of patients and vision health professionals across Canada. With support from L'OCCITANE Canada and the L'OCCITANE Foundation, FBC is able to make big strides in supporting blind or partially sighted Canadians and their families.
On behalf of the entire FBC team and community, we can't thank L'OCCITANE Canada and the L'OCCITANE Foundation enough for their partnership and commitment to supporting Canadians, and so many around the world, living with vision loss – their generosity has helped make the future hopeful and bright.
Learn more about the L'OCCITANE Foundation.
---

Join the Fight!
Learn how your support is helping to bring a future without blindness into focus! Be the first to learn about the latest breakthroughs in vision research and events in your community by subscribing to our e-newsletter that lands in inboxes the beginning of each month.