Jun 8, 2021
Mort and Marilyn Ritz support vision research into the future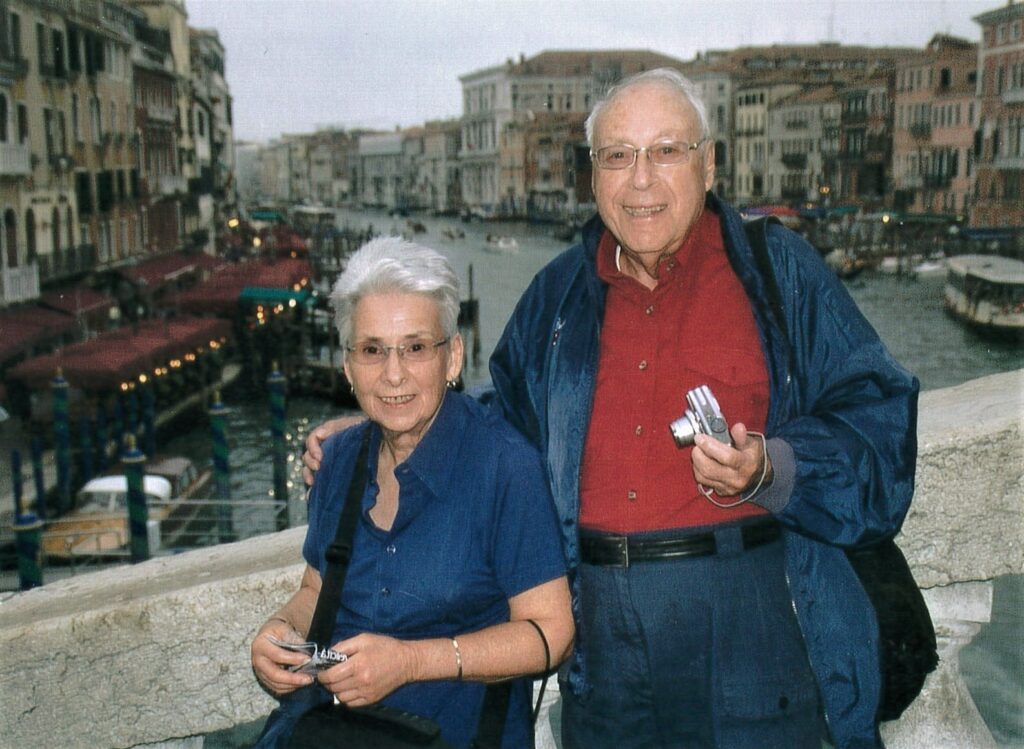 Meet longtime Fighting Blindness Canada (FBC) supporters Mort and Marilyn Ritz: Mort and Marilyn were both born and raised in Montreal, Quebec. They met on a blind date and have now been married for over 64 years. They have two children and a grandchild.
Both spent their working careers in Montreal, with Marilyn working at the Art Gallery of Montreal and Mort as the National Sales Manager for Reynold Aluminum. They moved to Toronto, Ontario 22 years ago to be closer to their daughter.
They both have a great sense of adventure, are avid photographers, and are well known travelers, having explored the world; from the African dessert to the Artic, the Amazon jungle, and every where in-between.
The Ritz's first exposure to vision loss was experienced in Marilyn's family when her uncle was diagnosed with age-related macular degeneration (AMD). At that time there was limited research and treatments being offered for AMD. Due to this, her uncle eventually lost his sight.
Their next exposure to vision loss was with their son who required a cornea transplant at a young age –a scary experience for the entire family.
As Marilyn aged, she noticed that her vision was decreasing. It was discovered that she too had AMD like her uncle.
The couple was introduced to FBC by Marilyn's eye doctor, Dr. Swartz at Sunnybrook Hospital. She encouraged Marilyn and Mort to attend a lecture hosted by FBC. They were thrilled to learn about innovative FBC-funded vision research at the lecture and made the decision then-and-there to support FBC's mission to advance the development of treatments for blinding eye diseases.
Over the years, Marilyn and Mort have seen the results of their support. When asked why vision research is important to them, Marilyn shares, "Because I can see in my lifetime the advances that have taken place. Not too long ago there was very little vision research taking place in Canada. There was no hope for those experiencing vision loss and blindness. Today, we can see advancements that are taking place and our support is helping those advancements."
When asked why they each became FBC monthly donors, Mort shares, "We saw that Fighting Blindness Canada used our gifts well in support of vision research. It was an easy decision for us each to become monthly donors and it makes giving easier for us."
After consultation with their financial advisor and lawyer, the couple also made the decision to include FBC in their Will. This was described as a natural decision for the couple to make, "…it is an extension of our current giving to vision research so that when we're gone, we know that the gifts we are leaving will continue to support vision research into the future." says Mort. "Everyone should consider leaving a gift for a charity or charities in their Will. It takes money to fund the causes we all believe in. For us it is vision research and we want our assets, when we no longer need them, to be used to continue the excellent vision research that is taking place in Canada."
Marilyn also added, "Life is made up of memories, remember the good, forget the bad, everybody goes through both. Although my eye-sight has failed, my life is full and my support of Fighting Blindness Canada is one small way I can help others."
---
We can't thank the Ritz's enough for their ongoing support in providing hope to over 1.2 million Canadians living with vision loss.
Donor support is at the root of every new eye disease treatment discovery. With generous funds from individuals like the Ritz's, FBC is able to move vision research forward. To learn how you can plan a gift to FBC, please contact Doug Smith at dsmith@fightingblindness.ca or call 1.800.461.3331.

Join the Fight!
Learn how your support is helping to bring a future without blindness into focus! Be the first to learn about the latest breakthroughs in vision research and events in your community by subscribing to our e-newsletter that lands in inboxes the beginning of each month.