Mar 4, 2022
Thinking outside the box: How Purdys is making chocolates more accessible
In 2021, Purdys Chocolatier released a limited-edition accessible box of chocolates designed for and in consultation with the vision loss community. The box included accessible features including orientation tabs, the chocolate legend in braille and a QR code to open a screen reader friendly version of the legend. Following the sell-out success of the box, Purdys released it again in 2022. We sat down with Julia Cho, Content and Marketing Manager at Purdys Chocolatier to learn more about how the box was developed and the impact it has had on the vision loss community.
Of course, the first question on everyone's mind is where did the inspiration come from for Purdys Holiday Braille Box?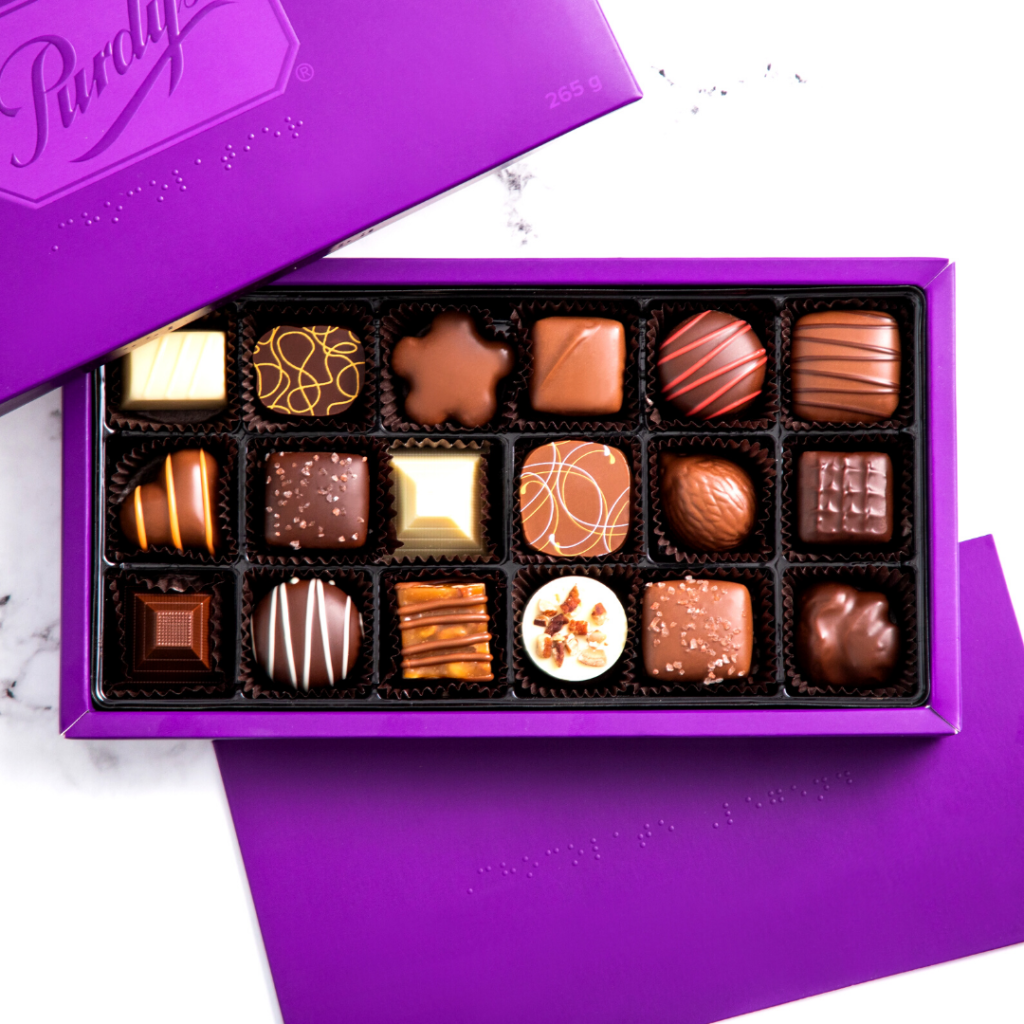 Julia: Last year, we were thinking about the holidays and chocolates, as chocolate is always on our mind at Purdys!
We were thinking about the excitement our customers share about opening a box of chocolate, reading the legend and then selecting a chocolate. As we thought about this, we realized that this relies heavily on visual cues, even though the act of enjoying chocolate is something that uses all our senses. So, we thought, how can we make it so that more people can experience the joy of picking a chocolate from a box of chocolates during Christmas and beyond.
How long did it take to go from idea to execution?
Julia: We first thought of the idea in May and we hit the ground running right away to make our deadline in December. We weren't sure if we would make it!
How did you ensure that this was truly accessible for people living with vision loss?
Julia: I am fully sighted, and I wanted to make sure we worked on this project with a consultant from the vision loss community. We connected with Ramya Amuthan and hired her as a consultant on the project. Ramya co-hosts Kelly and Company on AMI radio and identifies as having low vision. She has been part of every step of this project, from the design, the prototype, the packaging and even helping us engage influencers who are part of the community.
One example of Ramya's input was that once we received the first box prototype, she flagged immediately that it featured Grade 2 braille which uses contractions that substitute shorter sequences for the full spelling of commonly occurring letter groups. She informed us that we needed to use Grade 1 braille which is easier to read and more appropriate for packaging. As a result, we adjusted the design to ensure greater accessibility.
We also created a video to launch alongside the product where we engaged with other community members. For each person we engaged with, we asked them to provide their honest feedback as this is the first time we have launched a product like this.
Is this a limited-edition product? What is the long-term goal for this initiative?
Julia: We definitely didn't expect the box to sell out so quickly. We are pleased to now have it back in stock online and we hope that in the next few weeks it will also be available in select shops. We believe this box can be enjoyed year-round for all occasions!
We've noticed that companies are putting more focus on increasing diversity and inclusion. What interested Purdys in promoting accessibility for the vision loss community?
Julia: Purdys supports various organizations through our Purple Partnerships initiative. One organization we support in the 2SLGBTQ+ space is Get REAL. What we learned from them is that disabilities and accessibility needs are often overlooked in Diversity, Equity and Inclusion conversations. We pride ourselves on being Canada's Chocolatier and Canada is such a diverse nation. We want to make sure our products can be enjoyed by everyone in Canada.
Since the launch of the braille box, is there one piece of feedback that really stood out?
Julia: I've actually tried to read almost every comment under our YouTube video or social media posts and it has been heartwarming to see the response from the community. Comments such as "I can't wait to buy this for my mom who has lost her sight" and people sharing stories of loved ones. We're glad that this box has touched someone or made their day!
I've read comments that say, "it's just a box of chocolates." Honestly, we're a chocolate company and sometimes all you want is a box of chocolates! It's one of life's simple pleasures so if more people can enjoy it, we are happy!
To buy a Braille Box from Purdys, please visit: www.purdys.com/braille-box-18-pc

Join the Fight!
Learn how your support is helping to bring a future without blindness into focus! Be the first to learn about the latest breakthroughs in vision research and events in your community by subscribing to our e-newsletter that lands in inboxes the beginning of each month.