May 6, 2022
REMEMBERING GRANT DUFF, A DEAR FRIEND AND BOARD MEMBER OF FIGHTING BLINDNESS CANADA
Grant Duff was a gentle giant and a caring man with an infectious laugh and smile. His enthusiasm and optimism were infectious too, as was his belief in the importance of giving back to one's community. Grant's steadfast belief in the significance of vision health research and his singular focus on fundraising and supporting the vision loss community made him a dear friend to Fighting Blindness Canada (FBC) and one of our most loyal supporters.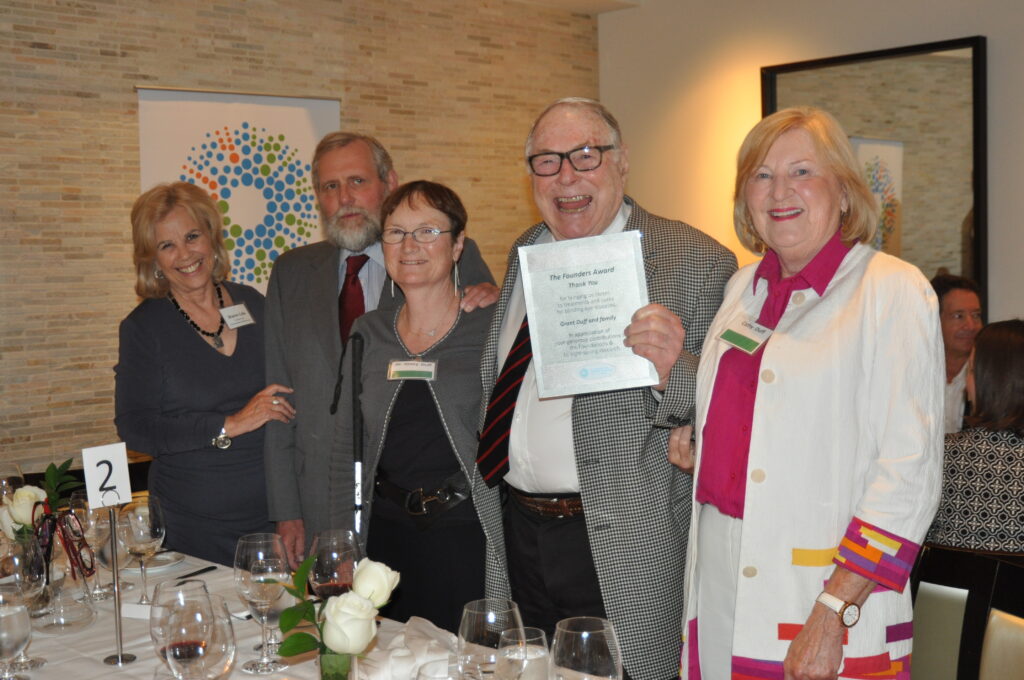 Grant's commitment was personally driven. In 1966, his nine-year-old daughter Ginny was diagnosed with retinitis pigmentosa (RP). Grant and his first wife Jean soon met the future founders of FBC, Jay and Malca Marin, whose own son Lorne was also diagnosed with RP. The Marins were on a mission to bring sight-saving research to Canada and had connected with the Foundation Fighting Blindness U.S. Soon after, FBC was founded, and Grant and Jean immediately got on board for what would end up being a decades-long journey of advocacy.
Grant was on FBC's Board of Directors from 1974 to 1991. He volunteered regularly for FBC's annual Ride for Sight event, Canada's longest-running charity motorcycle ride, and got his friends and family involved with FBC. His daughter Ginny served on FBC's board and has participated in many FBC fundraising events. She has ridden on a tandem bicycle in Cycle for Sight for the last 10 years. Grant was always at the starting line to see Ginny off and cheer her on – regardless of the weather or poor health – his signature optimism lifting up all around him.
Grant was born in Cochrane, Ontario, and grew up in northern Ontario and Toronto. He had a successful career as an urban developer and a joy-filled retirement, with summers spent in Muskoka and Stouffville and winters in Florida. Grant was an avid traveller. At age 90, he and his second wife Cathy travelled through Spain, Italy, and the Adriatic coast. Grant loved sailing, skiing, playing tennis, and golfing.
"Grant always wanted the best for FBC and believed in everyone's potential," says Sharon Colle, the former president and CEO of FBC. "When we gave him the Founder's Award in 2015, he turned the award into a celebration of other people who contributed to the organization. It was the nicest thank you he could have given."
Grant was a lifelong advocate of FBC, and we remember him with the utmost respect and admiration.
---

Join the Fight!
Learn how your support is helping to bring a future without blindness into focus! Be the first to learn about the latest breakthroughs in vision research and events in your community by subscribing to our e-newsletter that lands in inboxes the beginning of each month.