Apr 27, 2020
#WhyEyeCare Social Media Campaign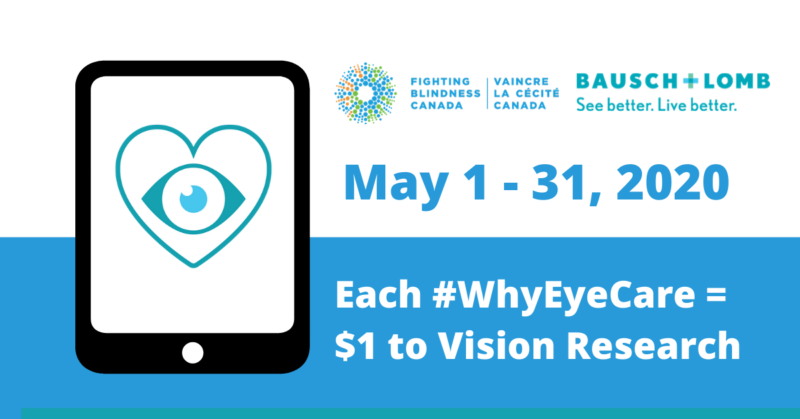 May is Vision Health Month!
Did you know that three out of four cases of vision loss are preventable—but only if they're treated early? That's why Fighting Blindness Canada (FBC) is partnering with Bausch + Lomb Canada to raise awareness about the importance of vision health and regular eye exams. In our efforts to raise awareness, we'll be hosting a #WhyEyeCare campaign and encourage you to participate.
How can you participate?
Participating in the #WhyEyeCare campaign is easy! Share the hashtag #WhyEyeCare in a post on Facebook, Twitter, LinkedIn, or Instagram throughout the month of May.
Your post(s) can be inspirational or educational. Are you impacted by vision loss, know someone living with vision loss or an eye condition? Share using #WhyEyeCare.
Not sure what to post? We've got you covered. We've developed a #WhyEyeCare Social Media Kit where you can find a sample of social media posts you can use to help spread the word. We've even included photos you can download and add to your post.
ACCESS SOCIAL MEDIA KIT (WORD VERSION)
How do my #WhyEyeCare posts help?
Over the month of May, Bausch + Lomb Canada will give $1 to FBC for each time the hashtag #WhyEyeCare is shared on social media. Our goal is to reach 20 000+ shares from May 1-31, 2020, totaling an amazing $20,000 towards sight-saving research. Participate to help us reach our goal!
Don't forget to tell your family and friends – encouraging them to share the #WhyEyeCare hashtag too.
Tag us on social!
We can't wait to see your #WhyEyeCare posts! Be sure to tag @FightingBlindnessCanada for the chance to also be featured on our social media channels.
Thank you for your support!
Join the Fight!
Learn how your support is helping to bring a future without blindness into focus! Be the first to learn about the latest breakthroughs in vision research and events in your community by subscribing to our e-newsletter that lands in inboxes the beginning of each month.